Every queer and their mother were out this weekend at Pride. If you have never been, picture sparkly sequins glistening on bedazzled booties as people prance around with unicorn horns, ready to strut and twirl. For one weekend the city is taken over by a sea of rainbow flags, and outrageously clad folk donning everything from titty tassles to mermaid costumes. This year's 34th Annual Pride Festival drew a crowd of 600,000 people to celebrate sexual freedom.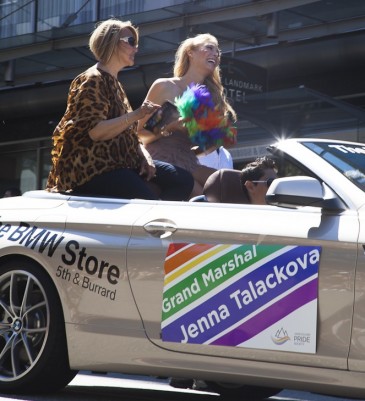 The parade started off with Jenna Talackova, a transgendered beauty queen who challenged Donald Trump—and won—for her right to compete in this year's Miss Universe pageant, earning a warm welcome from the crowd. Followed by Dykes on Bikes, always a yearly favourite, and Canucks player Manny Malhotra, the West End quickly became flooded with sass, class and ass.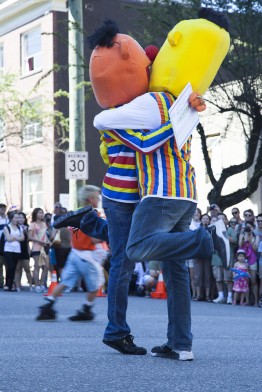 The highlight of my pride nightlife was seeing Leslie Hall at the Waldorf. Not only did she bust out onstage high-kicking in a golden onesie, but she went from doing dragon impersonations to singing the song "How We Go Out," with the lyrics "Shake it if you wanna hear more / Stomp once to hear Britney / Now twice for Beyonce / Now three times if you wanna hear me get nasty."
Hall then went on to dedicate a song to, "a lady's rear end. The flat kind good for pancakes," and teased the crowd with her overt sexuality, which left me wanting to eat a giant stack of asscakes. Blow Pony, a queer party crew from Portland, laid down the beats for the rest of the night with everything from '80s punk, to glitz electro, to ska, to g-rap. The crowd was thick and sweaty, which made it hard to get into the midst of the action. The only thing that could have hindered Blow Pony at Pride was their popularity.
I look forward to Pride weekend more than Christmas. This is partially because of the sunshine, but also because of the way members of a marginalized community come together to celebrate one thing we do all have in common: being queer. During Pride, it seems like everyone understands each other. Friends are made in a heartbeat because people are so happy to be out loud and proud. That is not to say that there aren't issues with Pride, such as the immense corporate sponsorship, especially in the parade, and some romanticizing of queer experiences, for example the positive message of homosexuality and transgenderism without discussion about the difficulties that come with it. Various members of the community, however, are continually addressing these issues by bringing more visibility to them through focus groups, non-profit groups, art and social circles. This allows for a space to enact social change while still having the time of your life.
The amount of appreciation, activism and support that pours out of Pride weekend makes this glitterfest one of my absolute favourites. I managed to exit with only one bite mark, a handful of bruises, some flogging wounds and permanent glitter that will not wash away anytime soon.