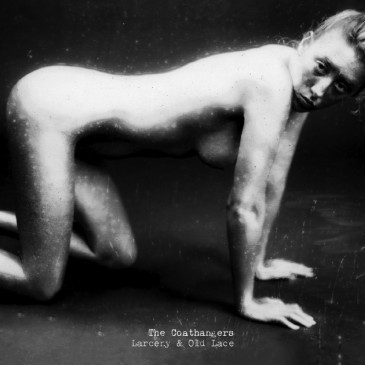 Hurricane
These four southern punk rock belles have come along way since the day they walked out of an Atlanta pawn shop with a pile of instruments with no idea how to play them. Their appropriately titled third album, Larceny and Old Lace, combines No Wave and straight up punk rock with back road blues to create a definitive sound. The music is bratty and abrasive.
Album opener "Hurricane" will blow your windows out as music crashes all around, rising up and pouring into your living room in a thunderous flood. "Trailer Park Boneyard," meanwhile, sounds like Sleater-Kinney channeling the ghost of Jeffrey Lee Pierce on a humid Georgian summer night. The girls show another side on "Go Away," a sweet Spector-pop number that could briefly deceive one into thinking that these young ladies spend their Friday nights on the veranda sipping iced tea and dreaming of handsome gentlemen callers rather than playing manic, sweaty sets at claustrophobic house parties.
These mischievous girls are old souls that will lure you in with their sweet southern charm, cunningly seduce you and lift your wallet while you're sleeping, leaving you stewed, screwed and tattooed with a smile on your face as tender closer "Tabbacco Rd." crackles on the phonograph.