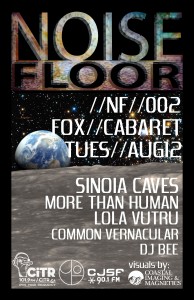 CiTR and CJSF Radio would like to revolutionize your cosmic perspective and entrance you with the sounds of Vancouver's freshest, most cerebral electronic music!
There are two CiTR stars to look out for at NOISE FLOOR: DJ B aka CiTR's Technical Coordinator Brad Winter as well as the radio show and record label More Than Human! Aside from CiTR's own, there are plenty of other incredibly talented DJs at work including Sinoia Caves, Lola Vutru, Common Vernacular, and Coastal Imaging will be there providing spectacular sounds and psychedelic visual projections.
Check out an awesome CJSF interview with DJ B (programmer by day, DJ by night) and Common Vernacular right here, so that you can get a taste of the amazing experimental sounds you will hear on Tuesday, August 12th at the Fox Cabaret! Tickets are only $7 and Doors open at 8PM. For more information, visit NOISE FLOOR's Facebook event page. See you there!
Sponsored by CiTR, CJSF and Discorder Magazine