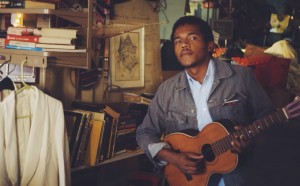 On Wednesday night, Timbre Concerts brings a night of fresh faced indie rockers at The Media Club.
Benjamin Booker is an ridiculously talented 22 year old based in New Orleans. He played his first live show just two years ago but has come a long way already by being featured on the Late Show with David Letterman and opening for Jack White! Benjamin Booker embodies the Chuck Berry era of rock n'roll especially with a high-energy band backing him. He is on tour to promote the release of his debut self-titled album, which you can stream in high quality for free on NPR (for a limited time)!

The Districts come from a little town called Lititz in Pennsylvania. They compliment Benjamin Booker with their youthful energy and folk based style of rock. They have a jam-packed summer touring most of the United States and a few Canadian cities along the way, but that just goes to show the amount that they are in demand!
Eric Campbell & The Dirt are a local act who definitely hold their own with the other two artists playing at Wednesday's show. Eric Campbell & The Dirt has been featured in CiTR's very own Discorder magazine, in which Curtis Aucoin described Eric's music as "a beautiful summation of human depravity." Despite the Vancouver roots, Eric Campbell & The Dirt are steeped in the musical stylings of the Deep American South, embracing a raw and heavy sound over clean cut polish.
Tickets are $13, doors open at 8:00pm, and the show starts at 9:30pm. Tickets are available at Red Cat and Zulu Records.
Sponsored by CiTR Radio and Discorder Magazine