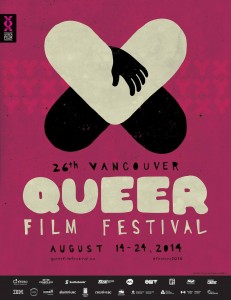 The 26th Vancouver Queer Film Festival will Begin on this  Thursday!
Held by Out On Screen, Queer Film Festival will last for 11 days until Aug 24th, featuring more than 90 queer films in 5 different theatres in downtown Vancouver.
CiTR is sponsoring two films:
1) Out in the Night.  "A fun night out in their safe haven of New York City's West Village changed the lives of seven young African-American lesbian women forever…" At 9:30 pm Aug 18th, @SFU's Goldcorp Centre for the Arts.
2) Salvation Army " in a country where homosexuality is still a crime, this award-winning feature debut is Abdellah Ta a's cinematic retelling of his roundly acclaimed autobiographical novel, Salvation Army…" At 9 pm Aug 22nd, @ Cineplex Odeon International Village Cinemas
Regular single ticket is $12 and only $8 for students, seniors and underemployed patrons. Click here for more info.
Come and celebrate together!
Sponsored by CiTR Radio and Discorder Magazine