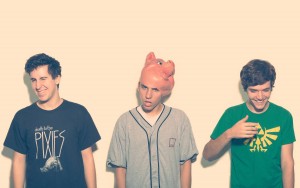 Two incredible shows are just days away thanks to Blueprint Live and Venue! Foxy Shazam will be playing with guests Stop Light Observations and BadBadNotGood are paired up with Sabota from Nelson, BC.
Foxy Shazam combine piano, guitar, and percussion, with an emphasis on good old rock and roll theatrics during their live performances. They're on tour to support their fully independently produced album entitled GONZO. This is an unpolished, raw, but ultimately creatively satisfying album well worth seeing played out live on stage!
Stop Light Observations plays a unique style described as Transformational Rock with influences of ; Classic Rock N' Roll, Indie, Motown, Hip-hop and Folk, Revival, Psychedelic, Garage, and Arena Rock. With such an eclectic range of influences, you will be bound to be entranced and amazed by the
BadBadNotGood are a groovetastic band out of Toronto that started out as a traditional jazz trio but quickly found their niche when they put their own brand of jazz on classic hip hop songs like Slum Village's Fall in Love, and Nas' The World is Yours. As a result of their unique covers of hip hop tracks as well as their genuinely great original tracks, they have amassed a large international following. They are on tour to support their latest album, simply titled III.
Hailing from an eight hour car drive away, Nelson's electronic group Sabota are inspired by what happened on Sabota Road, and on similar streets in similar places, in the hour just before sunrise. Their electronic sound is distinct and blends bassy dance tracks with more contemplative reflection.
These are spectacular shows that you don't want to miss out on! Tickets are $15 for each show and are available online at bplive.ca.
Sponsored by CiTR and Discorder Magazine