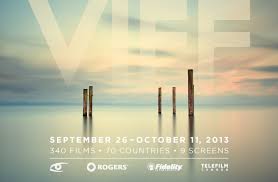 The Vancouver International Film Festival starts TONIGHT!
Every year, VIFF brings thousands of film lovers together to celebrate the talent of thousands of directors, screenwriters, actors and more. As one of the largest film festivals in North America, VIFF 2013 will bring 341 films from 75 different countries to Vancouver, 92 of which are Canadian films.
CiTR and Discorder Magazine are proud to support the Vancouver International Film Festival as sponsors of two great films that are being screened at the festival.
CiTR's Sponsored Film: "The Great Flood" directed by Bill Morrison.
This film tells the story of the 1927 flood of the Mississippi River. It was the most destructive river flood of American history, and displaced almost a million people. Using text, no dialogue, and music written by Bill Frisell, this film follows the refugees and the effects of the flood on their lives, and their music. As the refugees moved north, they took on Delta Blues and turned it into their own, creating Chicago Blues, Rhythm and Blues, and leading to the creation of Rock and Roll.
"The Great Flood" is playing on Oct 9 at 02:00 PM at the Centre for Performing Arts, and Oct 11 at 7 PM at Vancity Theatre.
Check out the trailer for "The Great Flood" here!
—
Discorder's Sponsored Film: "Tito On Ice" directed by Max Anderson.
To promote their book BOSNIAN FLAT DOG, Swedish comics creators Max Andersson and Lars Sjunnesson tour the countries of former Yugoslavia with a mummyfied Marshal Tito in a refrigerator. Watching border controls turn into improvised snapshot sessions, admiring mutant iron-curtain disney toys, buying souvenir grenade shell handicrafts and discovering sniper art galleries in blown-out apartments, they find that truth may indeed be stranger than fiction.
"Tito On Ice" is playing on Sep 27 at 7 PM, October 6 at 8:45 PM, and October 8 at 4:45 PM. All screenings are at the Pacific Cinematheque.
Check out the trailer for "Tito On Ice" here!
—
For more information about VIFF, including full schedule of screenings and to buy tickets and passes, visit their website.