A blue pastel mouth lets its sloppy, sedated tongue roll in and out on the video screen; a strange Wiseau-esque creature hunches over a computer and drum-pad, microphone pressed tightly to lips: "We regret to inform you this is Tommy Tone." I have to wonder if, with a long black wig and absurd composure (not to mention a shared name), the intent is indeed to explore an alternate universe, where the aforementioned film auteur took a musical route, instead.
As he parts the sea of people to create a catwalk for himself, Tommy Tone presents a strangely coalescent mix of irony and sincerity. While a loneliness underlies the songs, especially in the final track of the set, "God's Mistake," the presentation is taken to absurd heights. The new wave mainstay of a vocal echo-filter creates such an overpowering effect, that Tommy's lyrics often become an indecipherable mesh of the past and the present — an apt description for the sound as a whole. The last thing I jot down in my notebook is that despite Tommy Tone consisting of a single member (who seems to be rolling around on the floor at the moment), he still carries a fully fleshed-out sound, so much so that, having listened to his studio work beforehand, I was taken aback by this fact.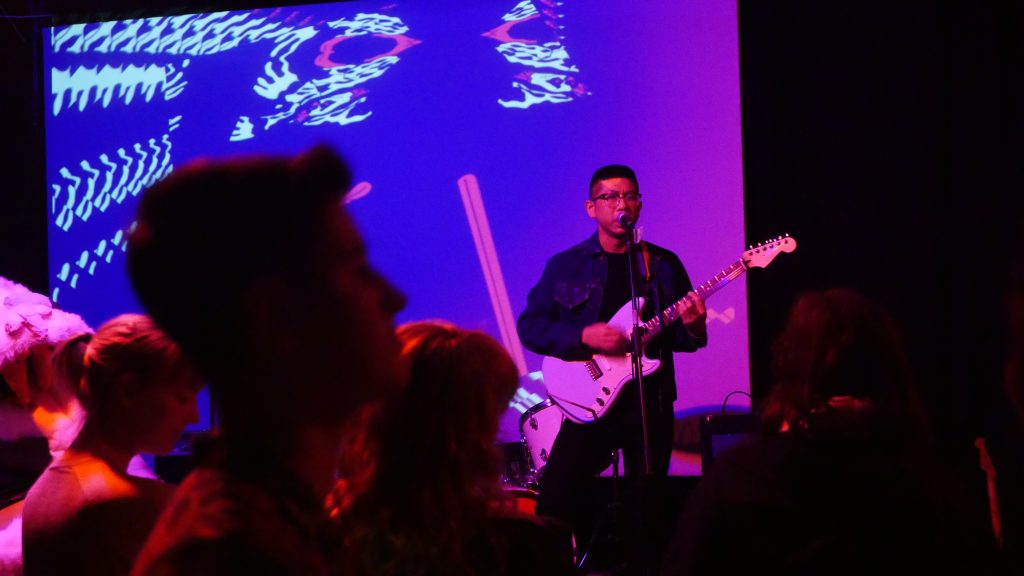 With Non La coming up next, the graphic backdrops (all provided by the Flavourcel Animation collective) become significantly more mesmerizing. Here, we have an ever-rotating cube-like shape of nth-dimensional inception, slowly shifting its faces from one entrancing animation to the next. Non La is another solo effort (as a matter of fact, the final band is the only one with multiple members tonight), and the singer / guitarist lets us in on the fact that he had a stand-up gig the night before, revealing that he has not practiced for tonight. Luckily, it doesn't show, as his cheery guitar driven sound (which carries the youthful yearning of a band like Grouplove) and well executed solos fill the room with energy. Sausages are now dancing across the cube-like shape, and are soon replaced by swimming book-squids. Psychedelic visions such as these dominate the backdrops of the night and create a dreamlike technicolor atmosphere, which is heightened by the fact that these animations are being projected not only onto the wall, but onto the bands themselves, creating a cohesive whole of both sound and animation.
Now, with sparkly and hyperbolized eyebrows, Devours takes the stage, serving up dark electronica with a side of ironic sampling (making perhaps the most creative use of b4-4's "Get Down" I'll ever see). As swirling oceanic peppermints melt into a green vortex and surging arteries drift across the void, Devours busts out a tambourine. As the tempo accelerates, the set builds to a triumph and the crowd convulsively hops along. Devours chooses his samples wisely and each one adds a deeper layer to the song it weaves through.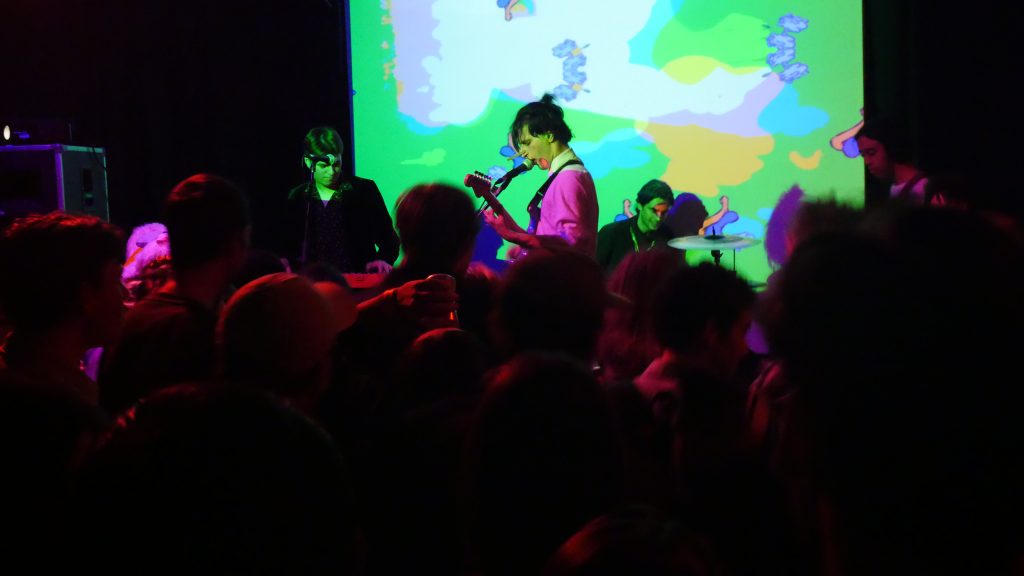 Finally, Bored Décor start their performance on a peculiar note: the lead singer close-pins his nose shut, which, while making for an entertaining Pinocchio visual, fails on an aural level. Nonetheless, the band is tight and once the close-pin is discarded, the lyricism and singing shine through, especially on "I, the Luddite" which since my first hearing it has become a new favourite of mine.
As a night of entertainment, you couldn't have done much better than Flavourcel's Sloppy Seconds. However, I can't quite say that this was the best way to display the animation talents of the Flavourcel collective. However remarkable, their animation seemed to take a back seat to the music. It would be nice to see the animations in a setting where they themselves are the focus, perhaps with a more ambient music backdrop — in some way that would best display their fully seductive and hypnotic power.