For a song about the relationship between person and place, the story behind ba:zel's latest recording of "Civil" has a poetic perfection.
The avant pop duo, usually based in Prague but playing a string of Western Canadian dates as part of a 'tour swap' arranged with Calgary's Foonyap, wrote "Civil" about the decision for 'urban migration,' and the artificial light by which we're surrounded as a result.
Then, when they were invited to play in the Corpus Christi Chapel (an 18th century Baroque space in Olomouc, Czech Republic) after a screening of a documentary featuring their music, the unique performance venue —and the grand piano that came with it —inspired the duo to create a semi-acoustic version, written especially for the space.
In turn the documentary maker, Andrea Culkova, decided to make a film of the performance — and, as you can see for yourself, the results are stunning.
ba:zel is Ewelina Ai-fen Chiu on vocals, soprano flute, keyboard, and midi pedal, and Daniel Vlček on bass guitar, beats and synths. We asked them a couple of questions about this bewitching video and the story behind it:
Q: What was it like to play in the chapel?
Ewelina: Having been born in Poland and raised strictly Catholic, being invited to experience and interact with these incredible spaces in a different context is enormously exciting. It allows me to truly connect and enjoy the space in a way I wasn't able to do growing up. The Corpus Christi Chapel is particularly wonderful to play since it's linked with the university, and both times we've played we've had a fantastic crowd made up mainly of students. This makes the energy of the show particularly enthralling.
Dan: It's amazing to play sacral spaces, but also a challenge. They are set up acoustically to be ideal for performing music… but not electronic music. It can be tough to deal with the natural reverb! But playing a semi-acoustic version in that space was ideal.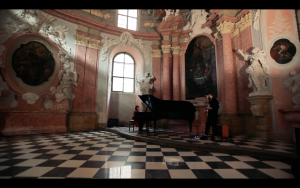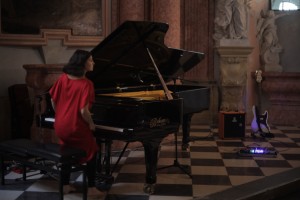 Q: And what was the process of adapting your song for this setting?
Ewelina: During the process of writing the original, I deconstructed the piano part down to a minimalistic series of chords, so in fact there wasn't much on my part to strip back. For me, it was a challenge to get used to hearing my voice with so little accompaniment, in a way, without anything to hide behind. For me this bare bones version is more meditative, performing it I tend to see a countryside with glow of light pollution gently fading behind me. The original is darker, the electronics surrounding the vocal pulse, exploring that light pollution, moving around within it.
Dan: For me it was basically starting from scratch. The idea was that I'd accompany Ewelina on the bass, and that seemed simple enough. But it was much harder than I expected to create a bass guitar part that I was satisfied with. It was a process of trial and error, Ewelina playing the piano and me trying out what sounded good, not just with the chords and notes on the bass, but also the effects. When you spend your time composing pieces with electronic beats, it's hard to step back and keep things minimal.
To get a sense of their usual sound, why not check out the original music video for the track, directed by Czech artist Jakub Krejči:
ba:zel play at Red Gate for the Vancouver leg of their tour. Given we've seen two distinct sides of the band in these versions of the song, I wanted to know what local audiences can expect from that performance. According to Ewelina, that may in part be up to you:
Ewelina: When I perform, I envision everything each song is about, I try to step into it, be enveloped by its meaning. And I draw heavily on the atmosphere of the show, drawing on the crowd's energy to draw them into what I'm feeling.
Dan: A witchy performance, a dark, wavy, moody and dynamic show.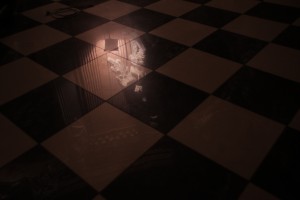 ba:zel will play at the Red Gate on Thursday August 30th alongside Hello Moth and Ivory Towers – head on over to the event page for details.
You can also follow ba:zel via soundcloud, instagram, and Facebook, and purchase music from their bandcamp.