Our friends Puzzlehead are going on tour, and it all kicks off at rug date* this Friday, July 14.
Puzzlehead released Trucks in May, which was described by CiTR Music Director Andy Resto as "the band [searching] rock 'n roll in a funhouse mirror." Trucks is also lovingly tagged 'clowncore' on Bandcamp.
…Curious yet?
In advance of their tour, we asked Puzzlehead's Clarence for a band update. 
x
Describe Puzzlehead's sound in five adjectives, but at least one has to be French.
Crazy / Classic / Cute / Popular / Humide
In October 2016, you told Discorder that the "inquisitive idiot" is a source of inspiration for Puzzlehead lyrically and aesthetically. Do you still write with a clown in mind?

I always have a clown in mind. Being able to filter ideas through the viewpoint of a "fool" is useful because it forces me to spend time deconstructing simple concepts in order to respond to them in a way "Puzzlehead" would understand. Aesthetically though, we're taking inspiration from trucks these days.
You also mentioned that Puzzlehead wasn't about doing the traditional band thing, but now you find yourselves going on tour. What has changed?
This band has been a constant struggle between wanting to share our music with people, and also not wanting to do anything that isn't directly related to the music aspect. In other bands I've often ended up doing these things I don't really want to do, and it ends up being a lot of time wasted promoting your music to people who don't really care about you anyway. With this tour, I'm booking all the shows and there's no pressure inside the band or externally to do well or even to DO, so it doesn't feel like we're compromising our goals.
What is the point of a tour kick-off show, really? You play Vancouver often, why should your fans come to this show over all the others?
We are playing with two of my favourites: Rinse Dream who are half band half ASMR simulation, and Maskara which is Nxc Hxghes' solo project. Nxc is the best musician and performer in Vancouver hands down, I look up to him a lot. So who cares about us, come for Rinse Dream and Maskara. But please come, we need gas money.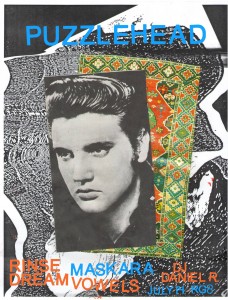 TOUR DATES:
07/15: Spokane, WA @ Baby Bar w/ Outercourse + Salve
07/17: MPLS, MN @ Disgraceland w/ American Hate, Fucking, 4H, The Bisexuals
07/18: Bloomington, IN @ Blockhouse
07/19: Chicago, IL @ Milhouse w/ Death Balley, Loomer 69
07/20: Detroit, MI @ TBA
07/21: NYC @ Alphaville w/ 973 Future Yook, The Wants,vVas Deferens
07/22: Providence, RI @ Psychic Readings w/ Holy People, Mother Tongue, Pyramid
07/23: Philadelphia, PA @ TBA
07/24: Cinncinati, OH @ Junker's Tavern w/ Suss Law, Death Sex Advantage, Sour Ground
07/25: Kansas City, MO @ Second Base w/ Jorge Arana Trio, Hayword VI
07/26: Denver, CO @ a new spot w/TBA
07/27: Salt Lake City, UT @ Diabolical Records
07/28: Caldwell, ID  @ the Manor w/ abolitionist, stepbrothers, no good
07/29: Seattle, WA @ Cafe Racer w/ Versing, Hoop
*Visit the Facebook Event for more details about Puzzlehead's tour kick off, including the location of 'rug date.'