Clowns occupy an awkward space in the social strata. To some, they are a symbol of joy; for others, they're carnivalesque nuisances; for others still, they may be the cause of a horribly cliché phobia. In the case of Puzzlehead, however, the clown is a source of inspiration.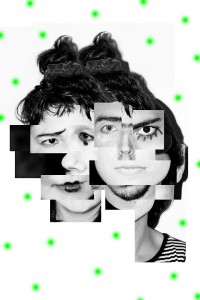 "I was writing a bunch of poems that were centred around this inquisitive idiot," explains Clarence, the founder and frontperson of the band. "The poems were written from a narrative of this bumbling fool that's really good hearted … He's an idiot, but he's coming from a good place."
That loveable idiot was Puzzlehead, in his earliest form. As the character gestated and her writing progressed, Clarence attempted to set the poems to music, enlisting the help of her partner Dandôn, and their friends Purenia and Golyadkin. Soon after, Puzzlehead moved away from his humble beginnings as a poetic vehicle and morphed into a full blown band. If their curious origin story is anything to go by, it should come as no surprise that the group is taking an unconventional approach towards making music. Puzzlehead, loosely put, isn't interested in walking the tried-and-true path that most groups tend to follow.
"I have been in other bands where it's very much about being in a band, and doing the band things — going on tour, taking photos, and stuff like that," Clarence says. That wasn't what she and Dandôn were after with Puzzlehead. Having both participated in and enjoyed traditional band experiences, the couple wanted something different. As Clarence puts it: "It was like 'Who could we be experimental with?' and not 'We're going to make a band, and play Music Waste, and then put out a tape, and a 7-inch, and then go on tour.' That whole trajectory."
That unconventional attitude, however, isn't without its challenges. By all accounts, Puzzlehead is still in its early days, but the group has definitely encountered some growing pains. Their third show sticks out in particular, a performance Clarence describes as "disastrous to the point of tears."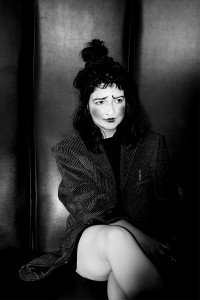 "We were the only band with a drum kit," Purenia notes in her recollection of how out of place the band looked and felt.
"[Purenia] didn't bring a kick pedal, so she was kicking the kick drum the whole time," Clarence recounts. "After we finished the first song nobody clapped, not one person … I looked over at [Purenia] and was like 'Just anywhere else. I would like to be anywhere else in the world right now.' It made us reassess why we play shows."
Their reassessment was a constructive one. Helping to solidify their reputation as a band that exists solely for themselves, that third performance, once considered an absolute flop, is looked upon now as a Puzzlehead team building exercise.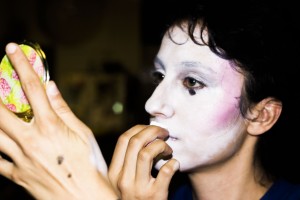 "I feel like we bonded so much from that," Clarence notes. "I just kept burping out of nervousness … It's funny now, and I kind of like it. There was really experimental, layered, curated music — and then we came and were a crappy band that played for five minutes, maybe."
"That's part of why I don't mind resistance with an audience," Dandôn continues. "The idea of pleasing an audience kind of fits into that typical band attitude, and I just think it's more interesting not to play to that."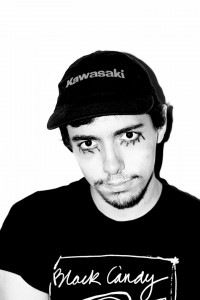 Dandôn's advocacy for a disaffected attitude is compelling, but it's not so simple. Much like the clown they've modelled themselves after, Puzzlehead are still grappling with their role as entertainers in conjunction with their role as artists
"When I think of a clown I think of someone that is trying to entertain by making themselves the joke, but then when people laugh at the joke they spiral deeper into the sadness that made them feel the need for validation in the first place," Clarence exclaims. It's a tricky space to navigate, with Puzzlehead making music that's unapologetically self-interested, but also pining for validation.
As Clarence says: "There are some things that definitely don't change no matter what efforts you make to point them into another direction. If people don't like me, I'm still going to be sad."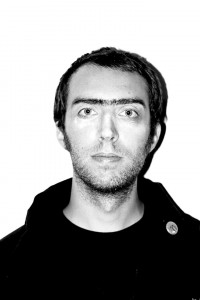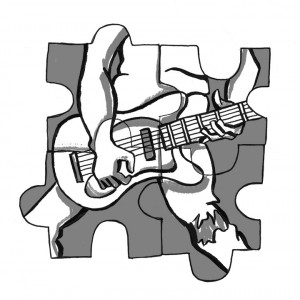 The production of their first release, a five-song tape entitled Fred's Man Cave, speaks to that dichotomy. Self-recorded in their rehearsal space, the tape in and of itself represents the intimacy and solidarity of the band, with no outside eyes or ears prying into their process. It was an insular experience, but one the members Puzzlehead seem to appreciate. Much like the growth the band felt after reexamining their third show, Purenia notes the progress they made while working on Fred's Man Cave:
"I feel like [the songs] have changed so much from when we first started playing them," she says. "I'm most excited about the last song … It's kind of cool that I can already see a chronological progression where things just make more sense now."
"I do feel like it's chronological," Clarence continues. "Like our first song versus our last song — maybe it's just because we were all involved with the process, but it definitely feels like some kind of journey."
Much like the character that inspired the band, it's that sense of journeying — complete with successes, pitfalls, and a fair share of clowning around — that drives Puzzlehead to keep experimenting.
X
Have these clowns piqued your interest? Get your hands on a physical copy of Fred's Man Cave, or check out deathtopuzzlehead.bandcamp.com for a digital version and more.