Discothrash #3
"The Price of Admission"
B. Caligula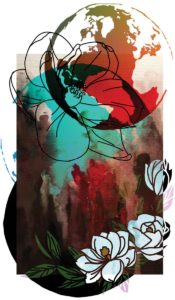 with hopes of despair,
I bandage my smallest finger.
I wrap a wire wreath
of rusted magnolias
around its hilt
and dip it in liquid ivory.
milk of magnesia
has replaced my serotonin.
an ulcer is offered at the pulpit:
the meeting place of heaven,
hell and rehab.
the spot where my body
will finally come to rest.
and so we park the car
at the far edge of the mini-mall,
uncovered and empty,
to wait for rain,
to greet our gods
as they transcend the bitter edge of suburbia
like a broken bottle does
the soft skin beneath the arm,
and when the planet bleeds out
on a bar room floor, the bouncer
will sprinkle drink tickets
around its withered husk
and turn the lights out
when they leave.