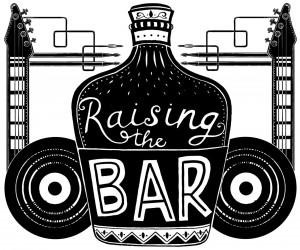 An actor, a musician, and a dancer walk into the Fringe Bar — the rest is unpredictable.
Before you judge this article based solely on my poorly crafted joke, know that the Vancouver Fringe Festival is all about experimenting. And when it comes to conducting experiments and exploring the chemistry of "us," there is no better place than the social laboratory a.k.a. the Bar.
The Fringe Bar is the watering hole for the festival's wildlife before, in-between, and during shows. The St. Ambroise Fringe Bar has fostered some of the city's most creative live performances over the years, and still nobody knows what to expect this time around. Dramatic routines, balloon animal gymnastics, or banjo-playing burlesque dancers; it's always a mystery bag of entertainment.

"It constantly re-invents itself every year," says David Jordan, Executive Director of the Vancouver Fringe Festival. "We can't get stale because of the way we program the festival. When you're drawing artists out of a hat, you'll never get stuck in a rut."
The festival's evolutionary tree has branches sprouting in every direction, with one attractive limb being the Fringe Bar. It accommodates performers, spectators, and anyone else seeking a thirst-quencher and an experience.
"Fringe Festival in Canada is very artist-centric and there are a lot of touring artists," said Jordan. "So we needed to give these people some place to hang out — and beer was a natural fit."
The Fringe Bar humbly began at Planet Bingo and the Legion on Mount Pleasant. In 2007, the Fringe community moved outside and incorporated live music to the social heartbeat. Dan Mangan performed that year and since then the Fringe Bar became a permanent fixture. It got spectators moving and offered an experience that extended beyond the theatre seats.
"It's amazing playing for theatre people, because they like to get theatrical," said Tristan Orchard, a local DJ and musician. "They're pretty much my favourite audience to play for, because everyone is performing and they have that post-performance good vibes."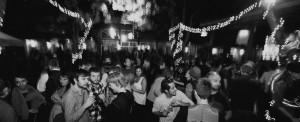 In 2009, Railspur Alley became the festival's central hub. Outdoor stages and bright lights fashioned onto the tree canopies created a starlit atmosphere down the promenade. Festival goers, performers, and passersby alike can enjoy the high calibre artists, while getting a little pick-me-up at one of Granville Island's outdoor patios.
Outdoor patios? In September? Is that another joke?
Weather-pending is something Vancouverites hear often, but anything goes during the festival. The outdoor components for the Fringe Bar were incorporated in 2010, after witnessing other successful beer gardens at Fringe Festivals across the country.
"I was always a little wary," said Jordan. "It's September. Can we get people to be hanging outdoors? It's going to rain. But it's awesome."
Curse the rain all you want, but one of Jordan's favourite Fringe memories happened during a rainstorm. It was 1 a.m., a cabaret show just ended, and a torrential shower had the city drenched. Undaunted, Jordan accompanied by his Fringe confidants, in true West Coast spirit, dove into the bar with a splash.
"There was a huge puddle, 12-feet long," said Jordan, "and a foot deep at some places. I looked at it and was like 'We are going to be dancing in that puddle for sure.' And within 20 minutes, everyone was in that puddle. It was a great time. There was a kind of spontaneous exuberance to that."
"It was a monsoon," said Orchard, who remembered performing during the storm. "It was just a great experience where people decided to forget about the rain, dance in puddles, and slide across tables. Everyone was completely soaked. It was just a beautiful moment where everyone lost themselves and it was just a wonderful time."
Promoting impulsiveness and spontaneity is all part of the Entertainment Coordinator's job. Taking the helm at this year's Fringe Festival is Corbin Murdoch, who knows that first-class preparation is foremost when it comes to quality improvisation.
"We anticipate spontaneity and we anticipate a diverse crowd each and every night," said Murdoch. "On the back end, we need to be as organized as possible so that we can be quick on our feet."
From September 5 to 15, the St. Ambroise Fringe Bar at Argo Café and the green space nearby will be the Fringe epicenter. New additions to this year's festival include food carts (La Taqueria, Reel Mac and Cheese, Urban Wood Fired Pizza), square dancing, and the Fringe Talk Show hosted by comedian, Riel Hahn, which features candid conversations with Fringe artists.
So what do you think? Maybe you can help me workshop my opening joke: An actor, a musician, and a dancer walk into the Fringe Bar—(insert your own experience here).
_______________________
The St. Ambroise Fringe Bar is open every day of the Fringe Festival, which runs from September 5 until September 15. The bar's hours are 7p.m. until late at 1363 Railspur Alley on Granville Island.