Joyfully obsessed with super heroes, cartoon characters and girls, Picasso Set were Vancouver's late 80's answer to The Undertones and The Monkees with a mod twist that made them truly original.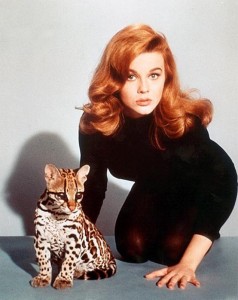 Mod style and music have reverberated through generations, and back and forth between continents. The Picasso Set were linked to the resurgent 80's mod scene sparked by the movie Quadrophenia; the band's audience included Vancouver's young Vespa-riding contingent. At shows the parking lot was usually crowded with Italian scooters. At gigs, their front row was typically populated by a very happening set of high school and university students in parkas and sunglasses. The rude girls, sporting Vidal-Sassoon-sleek bobs, mini skirts and their boyfriends' sweaters, all danced together. The rude boys wore turtlenecks, sweaters and chinos or white jeans with desert boots— or the tightest, narrowest, most stylish suits, shirts and ties they could scrounge from their parents' back closets. Virtually unobtainable pork pie hats were the preferred topping.
Crushed in a stylish herd at the front of the dance floor and executing the syncopated, yet restrained dance moves that marked the genre, all faces would be raised to the foursome on stage: lead singer/guitarist David Lea-Smith, bass player Patrick Carroll, keyboardist-a-rama Jonathan Wong, and drummer Doug McBride (followed by Ian Noble, and later Darren Uyeno). Lea-Smith's scooter was always parked outside for a double-quick getaway— vrooom!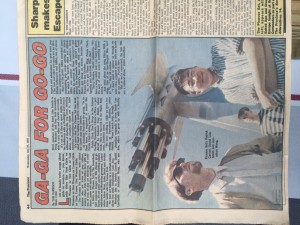 Mods loved the old Brit bands, classic American soul and girl-groups. A dose of new blood flowed in via contemporary UK acts like The Jam, The Chords, Purple Hearts, Merton Parkas, Lambrettas and the two-tone ska bands. Picasso Set were local faves, along with Evaporators, Smugglers, The Wee Beasties, One-Eyed Jacks, Seattle's Young Fresh Fellows, and Montreal's garage-y Gruesomes, to name a few.  
British love of hierarchy dictated a ranking within the original mod scene, with status rising from 'numbers' (regular audience members or hoi polloi) to 'tickets' (more influential members of the scene), 'faces' (all that and good-looking too), and 'ace faces' (the best looking, best-dressed and coolest of the cool style leaders).
My first time seeing Picasso Set was their gig at the old West Van Rec Centre. My 10-year-younger sister, Nicole rode along with the Vespas, and she told me about it. I had my own band— The Hip Type who at that time were pretty popular, and these younger kids were out of my usual sphere. It was part of the festivities planned for the big Vancouver Island Scooter Run that she and her mod friends rode to every year. Lea-Smith recalls that this was one of at least two shows they played that were put on by their friend, the exuberant teenage promoter and music enthusiast, Nardwuar the Human Serviette. Province music writer Tom Harrison, an avid supporter of local bands, also promoted Picasso Set in his New Alternatives 14 showcase at the Commodore.

So I came to the gig as an outsider and I was impressed. The crowd was wild for the band and as I watched from the back of the packed rec centre ballroom, I was struck by the energetic, stylish crowd, full of fun and high spirits, and very young. I think it was an all-ages gig at a time when they were rare. There was an aura of white light around the stage, and at the very centre of it was lead singer Lea-Smith in a white leather jacket. An 'ace face' if ever I saw one, though he'd be too modest to agree.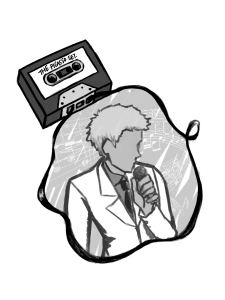 Picasso Set charted at CiTR with two songs— "The Somebody Girl" off their 1989 cassette release Yummy featured Lea-Smith's charming voice and playful lyrics, and had every girl around town wondering if she might be his 'Somebody Girl':
You're an Eastern Fashion Baby,
Dreaming of Christian and Yves,
But I just dream about you,
And all the groovy things you say to me.
Picasso Set's other big hit was "Kitten with a Whip," evoking the 1964 Ann-Margret movie. This song had a long life and was recorded again by Infrädig, a Scandinavian-inflected band/performance art project Lea-Smith later joined.  
Picasso Set had its heyday from 1988-92 and then morphed into a new band called Motorcycle, wherein the great song-writing duo of Lea-Smith and Jon Brotherton ( Cannon Heath Down) produced a whole new set of pensive, riffy and soulful tunes, including the lovely "Sundial." I will write more on that later…