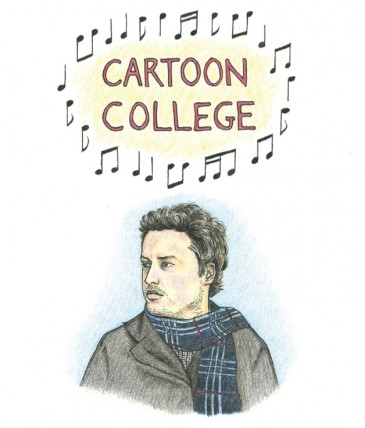 Cartoon College is not about digital superstars, next-gen ironic animators, or even pop culture web comics. It's a film about comics.
Directors Josh Melrod and Tara Wray welcome us to White River Junction, Vermont, home to the Center for Cartoon Studies and not much else. Each year 20 promising cartoonists enter a grueling Master of Fine Arts program that would make even the most dedicated student blanch. It's pen-to-paper, squint inducing work, and the film traces their ups and downs, as well as their relationships with the work, each other, previous students, and the cartooning industry. Full of nerds being nerds, the film is quirky, poignant, and devoid of pretension, despite stating that "comics are a simplification of literature, like poetry is a simplification of prose."
What makes the story so interesting is that these are no fanboys and fangirls. One commentator notes, "Their dreams don't hinge on drawing Spiderman. They have their own stories to tell." Another difference is a change—or return—to a more d.i.y. method of producing. Self production, self release, and direct trades at fairs are common and necessary in a world where breaking into the shrinking publishing world is harder than ever.

The moments of stress and victory are underscored by an indie soundtrack including Tortoise, Tokyo Police Club, Fire Tapes, and more. But the musical highlight, and perhaps the film's appeal for Discorder readers, is the original score by Jason Zumpano of Zumpano, Destroyer, Lost Souls, and most recently, Cyrillic Typewriter. His piano trills and airy accents will be familiar to Vancouverites, but with a new skew.
"I didn't want it to be too cartoonish. When they did their first edit of the film, and I turned in the first batch of songs, [Wray] referred to them as Peanuts on acid. So it was pretty wacky, a little carnivaly and cartoony, and that was fine at first. But then the movie got almost completely scrapped, so I decided to do the music all over again," Zumpano told Discorder. Melrod and Wray turned to Zumpano for Cartoon College after Wray used his music for her 2006 film Manhattan, Kansas.
"They wanted the indie rock vibe, and I'm not really into that stuff, but I did some guitar, more rock 'n' roll, more uptempo instrumental with synths and percussion as opposed to just piano. Going with someone else's vision, trying to tie the two together to complement it, and then to do it for 35 seconds, 32 seconds, that's the difficult part."
It turns out that the Cartoon College didn't just teach these burgeoning artists new approaches; working on the film influenced Zumpano's own personal composition. Both "Vato's Gold" and "Costigan's Manor; Pavilions & Palaces," on his latest release French Door, are from the film. "I almost never played guitar and Cyrillic Typewriter has guitar all over it."
Like Zumpano, these cartoonists are both committed to their own vision and subject to the demands of their industry. Is this the only similarity?
"Personal issues can certainly seep into the work. This can be good. This can be bad. Like music, cartooning can be more of a vanity project as opposed to a career, as it can be hard for others around you to take it seriously or even notice. In a way this makes it more meaningful. [I]t comes from within and quite often stays there. Fortunately though, sometimes a song here, a comic strip there, manages to escape and is sent out into the world."
Zumpano just wants to make music. And these artists just want to draw comics.
_________________________
Cartoon College is sponsored by CiTR and screens Sept 29, Oct 4 and Oct 5 as part of the Vancouver International Film Festival. For screening times check out www.viff.org.
To read Discorder's review of French Door, turn to page 29.