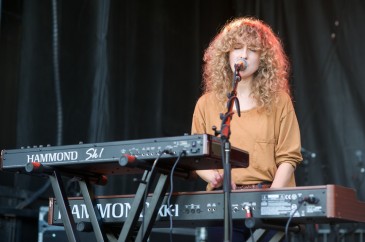 Bumbershoot is a music festival that incorporates numerous venues inside the seventy-four-acre Seattle Center over the course of the Labour Day weekend. To say that I enjoyed myself would be an understatement.
On the first day, Seattle sextet Pickwick played two dazzling shows filled with their mixture sultry garage rock, while Swedish act Little Dragon had the crowd dancing on the Fisher Green stage. Adorned in gold clothing and electric blue shoes, vocalist Yukimi Nagano pranced around the stage perfectly in sync with the synthpop being generated from her bandmates. Ray LaMontagne and his backing band the Pariah Dogs closed the evening out on the Bumbershoot main stage with their soulful folk hits "Jolene," "Beg Steal or Borrow" and "Trouble."
Day two started out on a high note with an intimate performance from indie poppers Tennis in the KEXP 90.3 FM music lounge. Later that evening, Toro Y Moi played on the Fountain Lawn stage. Despite some minor sound issues, Toro Y Moi delivered a solid performance. I cannot think of a time that Mr. Chaz Bundick has played a bad show; once his intergalactic love jams get into full swing, it's hard to limit your hips' fluidity. The final highlight of day two was the Kills. Watching the raucous Alison Mosshart is always a pleasure, but since she began singing for the Dead Weather, there is definitely a new level of swagger to her step. Dressed in leather and leopard print, she and guitarist, Jamie Hince deafened the crowd with hard-edge songs like "Sour Cherry," and awed them with the heart-wrenching "The Last Goodbye."
Waking up on the third day brought along an excited, but bittersweet feeling. It's difficult to come to terms with the fact that the steroidal amount of music that has filled your ears day in and day out will soon have to be substituted by your iPod.
New York electro act Phantogram killed during both their KEXP music lounge and Fountain Lawn stage sets. Late-blooming sexagenarian Charles Bradley probably caused an extraordinary amount of pregnancies with his smooth revivalist soul. The epic festival closed with a performance from Daryl Hall & John Oates. Aside from their choice in clothing (picture a sixty-four year old trying to fit into your sisters pair of skinny jeans), Hall & Oates still have the energy and vocal talent that assisted them in their domination of the music charts in the '70s and '80s.
Of course there were a few low points (the long lines to see the main stage acts, for one), but for the most part it was an energetic and open-minded festival that catered to a large demographic. From wholesome families to the weird and wonderful, Seattle Center was filled with an assembly of music fans as rich as its line-up. I highly recommend taking the trip down to Washington State next year to be part of what is sure to be another great Bumbershoot.