A stack of merchandise greeted me as I entered Lucky's Comics. Arranged on the front table, a collection of Kirsten Hatfield's art books sat, their cover's filled with a bright purple organic figure on a yellow background.
It was this moment that I got to see their art in person for the first time. Even without knowing the title of the art show, the zines did a great job in showcasing the theme "Alien Organisms." Perfectly mixing together images of human cells and nebulas, the figures offered a glimpse into an mystical world of organic life unknown to this planet. "They are all kind of inspired by cell structures in human bodies, plant bodies and the ocean — so a lot of them have repeating patterns," said the artist. In the back part of the store, there was a small room where the rest of the artwork was displayed.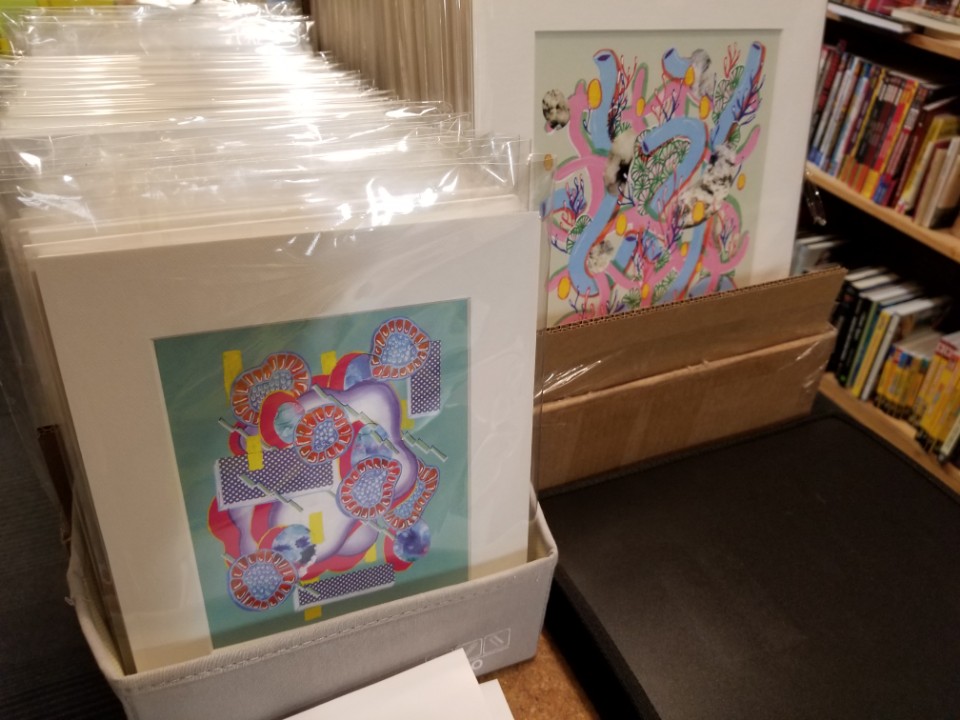 Peering past the sea of heads — the room was packed with people — I saw a series of colourful paintings, all of which shared a similar, otherworldly vibe. One piece, with the blue and purple background caught my attention first — perhaps because it was largely than the others. It was full of different shapes and forms reminiscent of jellyfishes and seaweed all tangled with together. After a few moments, I started to imagine the figure as fireworks, with the shards of colour on a dreamlike background, like the space in the sky.
On the same wall, the other drawings were also extremely successful in evoking the alien theme and the similar mystical atmosphere, despite the variety of colours and images throughout. While all of these smaller drawings shared a similar texture, their backgrounds were varied enough to make each one unique enough to stand alone. If I were to compare these drawings and their vibe to something else, I would compare it to music to which people could dance excitingly — the drawings give the viewers room for imagination for aliens or even space, which may return them to the innocence of childhood.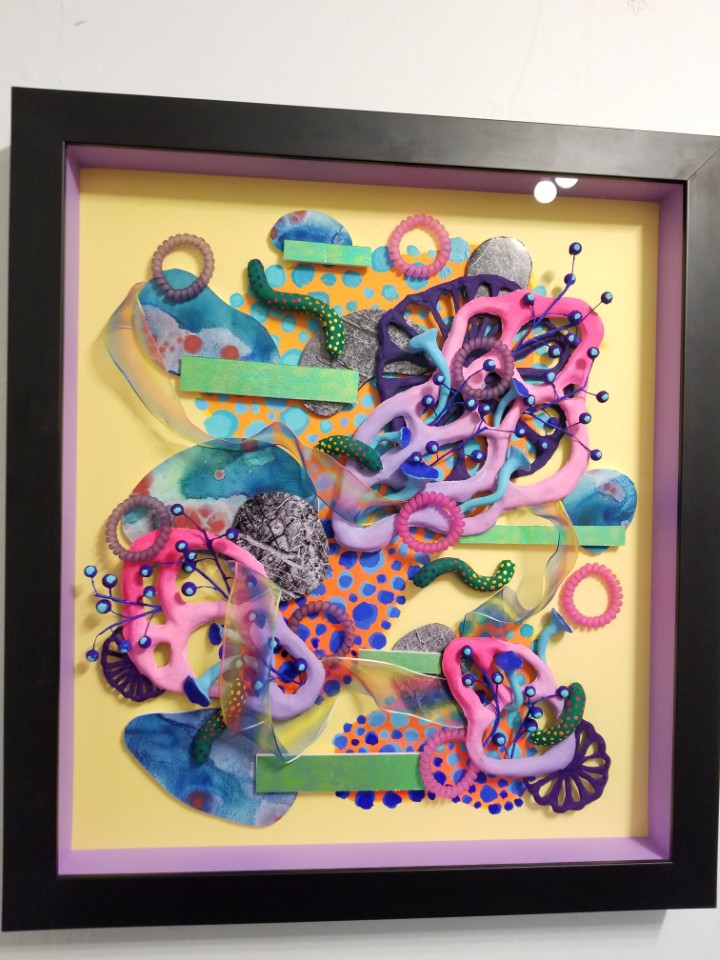 On the other side of the gallery, there was this particular work that attracted the attention of almost everyone in the room. In the same style and feeling as the rest of the pieces, this one was made in 3D, with layers of amorphous forms layered overtop each other within the frame. Out of all of Hatfield's pieces, it looked the most realistic, as if it was a glimpse at an actual alien organism.