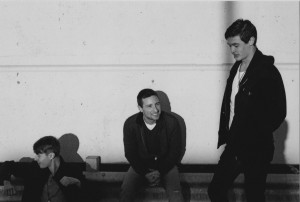 It's a Wednesday night at the Wolf & Hound Pub, on the corner of West Broadway and Dunbar Street. I'm sitting with guitarist/vocalist James Leung and drummer Ross Sheppard, two thirds of the local rock-outfit the Mouths (the bassist Kett Panther is unable to make it tonight). Between talks of Britney Spears related warm-ups and mouth-based puns, we discuss the group's evolution, their relationship with Blank Vinyl Project, and impending plans for the future.
The Mouths have a sound reminiscent of Arctic Monkeys and Is This It-era Strokes, but with a rougher finish. Complementing the driving quality of the band, Leung provides catchy vocals, at times with a well-delivered rasp. Living up to their namesake, the Mouths engage with articulate energy.

"I think the mouth is a good body part," says Leung when asked about the band's name. "It's a really expressive body part and that's important for music. It should be expressive."
"It also has a little sexual innuendo," Sheppard quickly adds.
The Mouths trace their history back to October in 2011, though they'd been jamming together before then.
"That was our fist gig," Leung recalls. Their debut had the Mouths opening for Oh No! Yoko and Said the Whale, something arranged by the latter after they listened to the Mouths' early recordings. "They did us a huge favour by letting us open. We started off right… and then we didn't play another gig like that for two years."
Since then, the band has managed to string together other milestone shows, graduating from playing locations like youth centres to more recognizable venues. "We played the Pit a lot last year," says Leung. "Those were the first gigs where people came out and knew the lyrics and stuff. That was really nice." The Mouths have also had the pleasure of playing at Fortune Sound Club, the Railway Club, and Zoo Zhop, among others.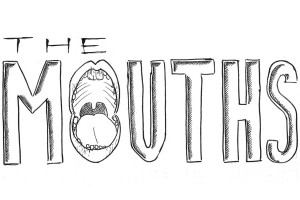 Another milestone for the band involved the departure of founding member Justin Sheppard, Ross' brother. Without their lead guitarist, the remaining members had to pick up the slack. "We've readjusted all of the songs so that it works without two different guitars," says Leung.
"We've been playing a lot so we've gotten a lot tighter since then." Sheppard agrees. The departure has led to a more experienced band.
Many of the Mouths' recent opportunities have resulted from their relationship with Blank Vinyl Project (BVP), UBC's campus record label. The trio submitted a video audition to the label and were asked to perform a subsequent live audition. "[BVP] weren't sure if we sucked or not 'cause they couldn't hear me singing." Leung reflects on the experience. The audition paid off and the Mouths were picked up as a BVP Featured Artist for the 2013/14 period.
"Fortune was through them. They've hooked us up with people. Gig's, promo stuff, and a fun weekend in Chilliwack." says Sheppard
"Its really important that they're just there poking us every once in a while. It's really easy to shut off your brain and forget to do music when you're busy with school and stuff," adds Leung.
Over the summer, the Mouths have been busy recording songs with Curtis Buckoll from Rain City Recorders. Their plan is to release a series of 3-4 song EPs in lieu of a full-length, with the first launch on November 9 and a release gig on November 15 to follow.