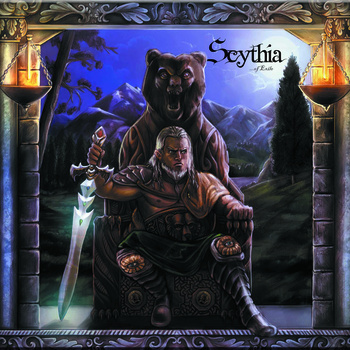 Armed with electric axes, the infamous "oboe of death," an enchanted keyboard and a thunderous seven-piece kit, metal minstrels (and self-proclaimed nerds) Scythia set out to spread the tale of a wrongfully-exiled king and his quest to regain his throne. What results is a meticulously crafted and masterfully produced album that sounds like what would happen if Alan-a-Dale was raised on Iron Maiden.

…Of Exile begins with a symphonic prelude that leads into "Spirit of The Quest," slowly setting the scene as our hero sets off on a journey. Things continue to roll along as he delightfully jaunts through a "Sleeping Village" and into the intrigue of the "Forgotten Forest," a perfect place to indulge in a little hocus pocus. This is where the quest goes awry though; things get real heavy when the "Voice Of The Sword" comes down. Naturally, the magic sword is a little dominating and evil, so the king must toss it into the abyss and storm the "Fortress" without it. However, perhaps due to the blazing axe work and rapid-fire blast beats of the traveling minstrels, he and his followers are able to tear down the "fortress of lies."
All said and done, our hero and his warriors strut their prowess on "Dies Irae II," an epic metal celebration that really shows what the "oboe of death" can do. It doesn't end there, though. A good quest is never complete with out a victory celebration at good ol' "Hobarth's Inn," where all medieval metalheads are invited to raise a goblet of mead and sing along in rejoice!