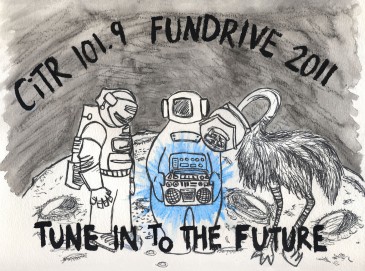 Shimmering Stars- I'm Gonna Try
World Club- Weight of a Mountain
Each year, CiTR's Fundrive has us soliciting our faithful listeners/readers for charitable donations to help fund the radio station and Discorder magazine. On top of providing community-based programming for the Vancouver area and beyond, we also have a lot of fun.
Below we've gathered just a few of the many faces that have graced the station over the years, and they've lovingly shared why CiTR is so special to them. Tune in to 101.9 FM November 17-24 for the Fundrive and we're sure you'll here some more great stories about the station.

Grace McRae-Okine (President of the Student Executive, 2011-2012):
There is simply no hiding it — this is one of my favourite times of year. As a student I have enjoyed one week of respite from midterms, mini candy bars are ripe to be moved to the clearance racks, and the seventh annual CiTR Fundrive is nigh.
While CiTR operates 24/7/365, we dedicate only a few days out of the year to ask for your donations. This annual funding drive (or Fundrive, as we like to call it) is not so that we can continue doing all we do for just one more year, but in the hopes that you'll have 101.9FM to tune in to for years to come. This is because we are a campus and community radio station, and rely on the support and funding of the student body at UBC as well as our listenership in the Vancouver community (and abroad) to fund the work we do. We take our mandate seriously — to educate and train those interested in broadcast journalism; to support projects, businesses, and events that support to marginalized groups in our community; to give a voice to those who may otherwise be voiceless; and to give our celebrated DJs the freedom to play the best in local, underground and alternative music. And yes, we do enjoy throwing a mean party every once in a while.
This year's Fundrive will run from November 17-24, and we're asking you to 'Tune In to the Future' of radio with us. Funds raised during the 2010 FunDrive (a whopping $30k!) went towards our operating budget and special projects such as digitizing our 30k+ library of CDs, helping to bring us into the future of broadcast radio. This year we have upped our goal to $35k, and look towards the long term future of CiTR. We want to remain relevant, accessible and unequivocally awesome through 2012 and beyond, and we need your help to do it.
So whether it's on air at 101.9 on the FM dial, online at citr.ca, or on the lovely Discorder you are reading online, we invite you to 'Tune In to the Future' with us. It's sure to be an interesting ride.
Janis McKenzie (Chair of CiTR's Board of Directors, and Discorder Contributor):
My first show was called Rude Awakening. The time slot was 7-10:30 on Thursday mornings, and even though I only lived across the street at Gage Towers it was nearly impossible to get there early enough. I was usually out seeing some band the night before, and by the time the proctor let me into the station it would already be time to go on-air.
Usually I'd play the sign-on cart, grab something from the playlist and put it on, and then rush over to the record library to get enough music so I'd have time to find a pen, the log sheet and the tape I was supposed to play later on (on the reel-to-reel machine). Sometimes I brought poetry records from the Wilson Recording Library, or played a twelve-inch single I'd heard at the Luv-A-Fair, but mostly I didn't know what I was going to play until I was there. Mostly what I ended up playing was garage or punk songs, and most of them were less than three minutes long. If I needed time to run down the hall I would pull an album off the playlist and cue up the longest track, even if I'd never heard it before.
The album covers were usually marked up with notes from the music director (and dissenting notes from some of the DJs) about which songs to play and what they were like, but it was always a crap shoot.
Sometimes I'd be sprinting through the station lounge (and past whoever was sleeping on the couch that morning) and hear whatever it was coming through the speakers and think, "oh hell, that's awful." But once or twice it turned out to be something great (That was how I discovered the excellent Scottish band The Primevals). Three-and-a-half hours was a long time to fill when I didn't have a plan and really didn't know what I was doing, but I loved it.
Duncan McHugh (Board of Directors, host of Duncan's Donuts):
Fundrive is an exhilarating time to be around the station. Everyone's working hard, phones are ringing, DJs are pulling out their big guns; it's a picture of the station at its best.
Fundrive is also a very exhausting time. Every year, I have a point where I hit a wall and feel super burnt out. Last year it hit right before the finale. I showed up to the party not wanting to be there at all, attending only out of a sense of obligation. The theme was "'90s covers" and there were ten bands on the bill; I was overwhelmed.
Slowly though, my mood brightened. It was hard not to cheer up seeing all the bands, volunteers and listeners pitch in to support the radio station they love.
By the end of the night, I jumped onstage to join everyone else in a crazy "Smells Like Teen Spirit" sing-along. It was so much fun! Once again, the power of CiTR managed to lift my spirits.
For more information on where and how to donate, click here.