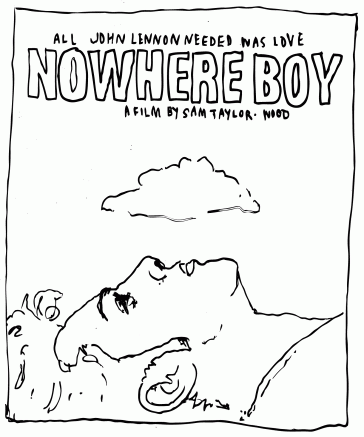 That's right, it's yet another film about John Lennon! In the last few years alone, there have been numerous John Lennon biopics and documentaries. Many of them, including Chapter 27 (2006) and The Killing of John Lennon (2006) choose to pay a great deal of attention to Lennon's later years and the events leading up to his tragic death. However, Nowhere Boy, directed by Sam Taylor-Wood, narrows its focus on the less talked about story of John Lennon's troubled childhood.
Nowhere Boy was finally released in the U.S. on Oct. 8, just in time to celebrate what would have been Lennon's 70th birthday. It had a limited released in Canada, a week later. I saw it on opening night and as usual, the local Cineplex was packed with teenagers. But when I walked into the theatre, I noticed that it was practically empty, and that the few people in the audience consisted of grey-haired, middle-aged married couples. Everyone was so neatly paired off. It put into perspective, that 1) all the young people must be watching that Facebook movie and 2) that these were moms and dads who have clearly been anticipating this biopic. I hope they weren't expecting a happy, nostalgic look back at the exciting beginnings of the Beatles, because that's simply not what Nowhere Boy is about.
The film explores John Lennon (Aaron Johnson) through his teenage years and his complicated relationship with his aunt, Mimi (Kristin Scott Thomas) and his mother, Julia (Anne-Marie Duff). John lived with his aunt and uncle and was raised by them from the time he was five year old. The film picks up from when John begins to rebuild his relationship with his mother, who happens to be living in the same neighbourhood. We see John learn to play the guitar, become a wannabe Teddy Boy, learn the truth about his parents, form a band and everything else up to around 1960, right before the band is about to head to Hamburg.
The film is told in a typical biopic fashion. The film tries to be a little unconventional at times, like in the brief dreamlike flashbacks, but the film doesn't push it enough to make a statement. Instead, the flashbacks lead up to a melodramatic intervention where John learns about what really happened between his mother and father. The film really plays up the clashing personalities between his mother and aunt, to the point that it felt contrived. Even their wardrobe and makeup were overtly presented as polar opposites. Julia's free spirited nature sometimes feels forced and the film is definitely implying some Freudian undertones to John and Julia's relationship, which I personally felt was unnecessary.
It's quite obvious that the actor Aaron Johnson is a tad too "pretty boy" to be playing John Lennon and the excessive close ups really didn't help. Regardless, I have to give some credit to his performance. He played John as an up-to-no-good teenager, rather than doing a bad impersonation of an icon. It makes it a bit more genuine and the scenes where John is just being goofy and playful are when you can really see and hear the resemblance.
Despite these few dramatizations, the film is quite accurate to Lennon's biography. I think a lot of die hard fans will appreciate the film for including even the tiniest details of John Lennon's life and also, the subtle foreshadowing to what obviously lies ahead for Lennon with the Beatles. Things like, Paul McCartney playing "Twenty Flight Rock" to impress John in order to join the Quarrymen, or the quick mentioning of the original Beatle's bass player Stuart Sutcliffe, are details that definitely won't go unappreciated. There are also a few subtle references and nods to the Beatles that are fun to pick up on and they're by no means as forced as the ones in Julie Taymor's Across the Universe (man, I hate that movie).
Having an affinity for what lies ahead for Lennon and the Beatles further strengthens a lot of scenes emotionally. One in particular is when John loses his temper at his mother's funeral and McCartney takes him outside. They comfort each other with the knowledge that both of their mothers are gone forever. Of course, the scene is highly fabricated, but if you love the Beatles, this scene is especially heart wrenching. You realize how much Lennon and McCartney have been through together and that they'd been a part of each other's lives since they were just two punk kids.
If you're not a huge fan or are completely unfamiliar with Lennon's biography, the film is still decent. The costumes are great and the soundtrack is fantastic. Take away the fact that it's about John Lennon, and you still have a heartfelt coming-of-age story about a boy who just happens to become one of the greatest songwriters of all time.