Discorder last featured Echuta back in 2016, before the release of their debut album. They've been very busy in the meantime playing shows and working on a follow-up, and today the duo – comprised of songwriter Andy Resto on guitar and vocals, and Ace Martens on drums and guitar – are sharing some of the results with us, as they drop a new music video and head into the studio to talk new music and upcoming shows.
The video is for "Stay Engaged", the second single from the soon-to-be-released Even if Long-Winded Waits. The song holds a special place on the record: Andy tells us that "the album works in an arc and this song is the centrepiece, a consistent theme being an inner monologue loaded with anxiety for being kind, being loved and loving others, and being a healthy individual while being confronted with the stark contrast of your personal worries and the ridiculousness of being self-absorbed.
"The key is taking laughter very seriously."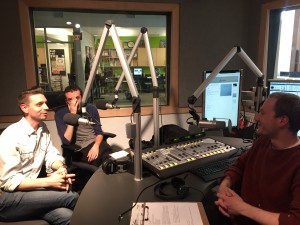 The video is a delightfully ambiguous blend of the earnest and the silly, pairing Echuta's signature dogged vocals and sometimes-frantic, sometimes-haunting sounds with Resto and Martens' dynamic gym-floor workout.
"Most people don't know that Ace and I actually first met and started collaborating as interpretive dancers," says Andy, "and we wanted to bring back our old discipline into our present context. I think what comes through quite clearly in the video is the parallel between rhythm of phrase and ebb and flow of the angle of our limbs in our lithe movements. While also using a particular film method with one continuous shot, it evokes the repetitive musical thread, whether it be the gesture of the strumming hand or Ace's subtly magnificent percussion."
How serious is he? Decide for yourself…
If you didn't catch Echuta live on the radio, worry not – you can always stream or download their interview with  CiTR's music director, Myles Black.
Even if Long-Winded Waits releases through agony klub on June 1. You can pre-order a copy now or get yourself to their release show, happening next Friday at the Toast Collective, where Echuta will be supported by local talent with Jerk Jails and Pukesword.
It that's too long to wait, Echuta will also be appearing at Red Gate's Alleyfest this Saturday, May 26.