If you're at all interested in hardcore punk, maybe Deranged Records should ring a bell? If it doesn't, here are a few artists that have released music through the independent label that might: Fucked Up, White Lung, Career Suicide. Since 1999, Deranged Records has had over 300 releases from an incredible repertoire, which is all the more impressive given the label's one-man army — founder, Gordon Dufresne.
Originally based out of Toronto, Gordon relocated to Roberts Creek on the Sunshine Coast with his family in 2005. According to Gordon, he didn't have any connections to Vancouver whatsoever, let alone Roberts Creek. For him and his family, a clean slate was exactly what they were looking for.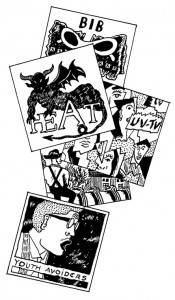 Discussing the history of Deranged, Gordon says, "I didn't wake up one day and say, 'This is something I wanted to do for the next 20 years.' I was already involved with that scene: putting on shows, [running] record stores, and most of my friends were in bands. That was something I was always around," he tells me. "There was definitely a specific sound that I was interested in, and remain interested in today … It's always been punk and hardcore. I guess I got involved with that music through skateboarding, whether it was Thrasher Magazine, or whatever it was at the time. Really, that's how I was exposed to it," he explains.
On his attraction to punk, he says plainly, "That's just where my focus was. Because I was not musically inclined, I figured putting out a record was one of the ways I could get further involved without needing to be a musician."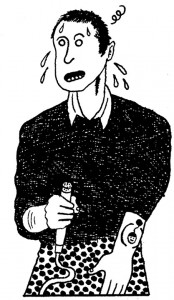 Dufresne is fairly humble and modest when talking about running his label. As he says, he is "a man of few words," while apologizing for any lack of "sexy and exciting" details about the business. He has always managed the label by himself. "Most of the labels that I like and respect that are putting out records today are typically run by one individual, and I think that is the right format for me as well," he says. While label operations are limited to Gordon, Deranged is rather prolific, releasing an average of two releases per month with pressings of 1000+ to start.
Partly because of Deranged's focus on hardcore punk, but also because of the label's history using U.S. distributors, Gordon explains, "often times I'm looked at as an American label. I don't face the same kind of obstacles as your typical Canadian label." It seems that because of his long-term presence within the punk community, Deranged Records firmly holds its ground.
In talking about his relationship with artists, Gordon is practical about his involvement, saying, "As far as where I see myself as a label, most often, [I am] a means to an end. I think that where a label like Deranged may be of benefit is often times for smaller bands, because distributors and stores will take my records based on the label itself, so they'll take a chance on an unknown band. Same with people who buy the records."
He laughs as he says, "As a label, you don't necessarily get the credit that you may deserve, and that's totally fine, that's not what I do it for."
It is certainly evident how passionate Gordon is about his work. While he might do all the label business himself, he has advice for artists doing their parts: "If you're a touring band, depending on how out-there you are, you're the one that's creating that kind of energy and buzz around you, more-so than the label in question … I think if someone is able to think a little bit outside of the box, they can create that momentum for themselves."