The first time I met Jasleen Powar, a.k.a. Horsepowar, was back in 2013. We were hanging out in the CiTR news office, and she was working on a rap about Hamlet, occasionally enlisting my minimal Shakespearean knowledge to verify her lyrics. Though I was initially confused (why would someone rap about Hamlet, of all things?) this was quickly replaced with amazement. I listened as Jasleen took a subject that many find to be excruciatingly dull, and turned it into a clever, energized and skillful rap. Three years later, Horsepowar is no longer rapping about Shakespeare – but her energy and skill has continued to intensify.
This past March, Horsepowar released Out2Lunch, a 5 track EP that is as fun as it is diverse. Throughout the EP, intricate lyrics weave between classic hip hop beats, Bollywood samples, and catchy synth-driven melodies. Dropping just under a year after her last EP Bollywoes, Out2Lunch demonstrates an impressive balance between growth and consistency.
"You know how everyone says, 'Do you, do you and don't ever change?' That's what I'm doing," says Jasleen after asking how her sound has evolved. "I think Bollywoes and [Out2Lunch] show that I've made progress, but they still play true to who I am … Sonically, the quality of Out2Lunch is way better because I got it mixed and mastered, and I'd never done that before."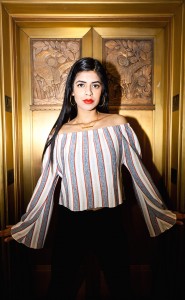 Produced and recorded from December to February after Jasleen finished her Theatre degree at the University of Victoria, Out2Lunch features collaborations with Homeboy Jules, who Jasleen met on the Crimes & Treasons show at CiTR, as well as Francis Got Heat. The EP picks up where Bollywoes left off — it is high energy, but shows more vulnerability and maturity. Part of this comes from Jasleen's decision to introduce more of her singing voice. And while this might be a daunting choice for some rappers, she approaches this decision with confidence.
"You just gotta go with it. That's kind of how I dress myself. You know, people say, 'I don't know if this goes!' You just gotta rock it – if you say it does, it works, it's gonna do that. So I just do the sing, speak type, Kid Cudi meets Drake style."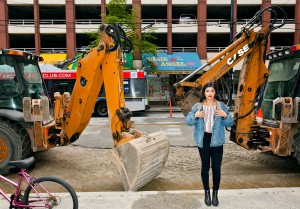 Growing up as the youngest in a big family, Jasleen found herself seeking out the spotlight from an early age. Her first foray into performance was through dance, and despite the fact that she was a shy kid, getting on the stage to perform in dance shows is where she believes Horsepowar began to take form. From dance, she moved into slam poetry, and then drama, before landing on rap. This wide range of experiences has helped her to craft a unique sound, and take Horsepowar from a vision to reality.
When I inquire as to whether she feels like Horsepowar is her alter ego, Jasleen explains, "You know dress rehearsal, and then the final performance? Jasleen Powar is like dress rehearsal, but Horsepowar is who I am at my full potential, at that exact moment. It's still me, but it's just like, fuckin', a lot of Horsepowar in there! I'm ready to go, and I'm ready to go fast!"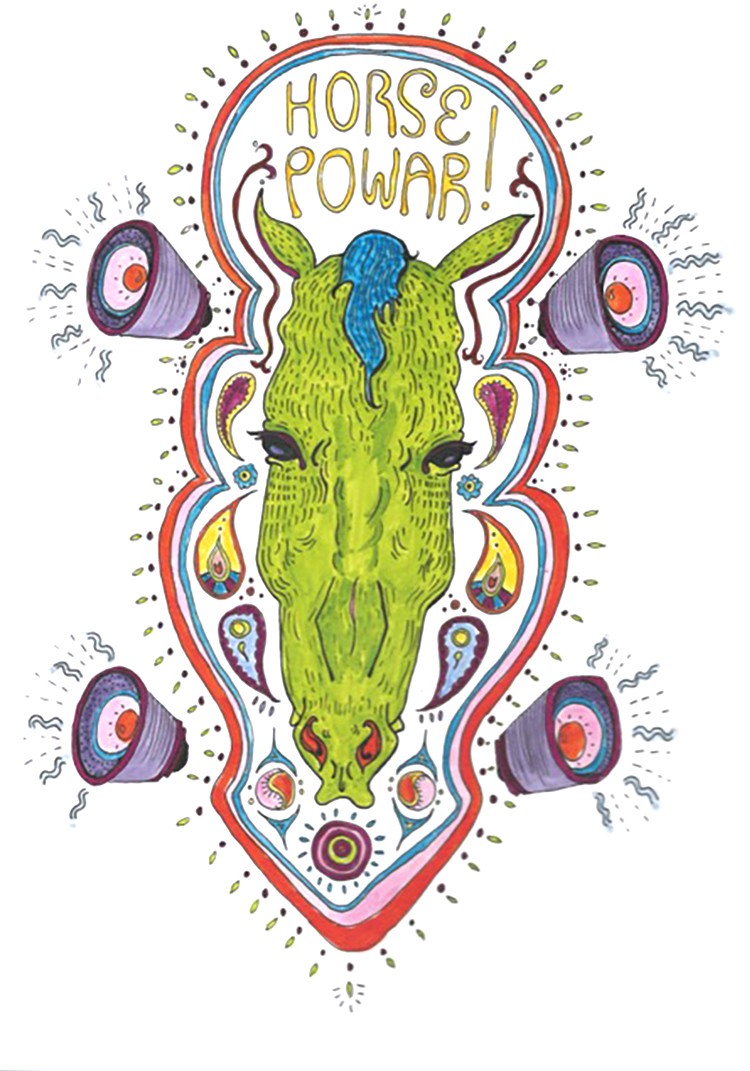 So far, this approach has paid off. Both Bollywoes and Out2Lunch have received attention from Noisey, The FADER, HipHop Canada, CBC and Nylon Magazine. Internationally, they have also received attention from GQ India and Buzzfeed India. "It's a nice feeling," reflects Jasleen, "It makes me feel like Horsepowar is bigger than I originally thought it could be. But now I definitely see a global aspect, and I really appreciate all the love that India has shown me."
Part of this love, Jasleen suggests, comes from the samples of Hindi, or Bollywood music found throughout her last two projects. Ranging from subtle background beats to full blown, captivating hooks, these samples give listeners a taste of some of Jasleen's influences. And though she has a self-proclaimed love for Hindi music, her choice to include these samples is not always an easy one.
"Sometimes I feel like I don't want to play that Brown girl rapper … I just want to be a rapper – so then do I stop playing with Hindi songs? But then I think back to my actual personal taste. And I fucking love Hindi music. So I am going to play true to the hip hop aesthetic, and pull, and sample. It's all about taking something that is already there, and creating something new with it. If I'm doing that, I'm going to choose stuff that I like, that I have a personal connection with. And that is Hindi music, and so, I just can't fight that."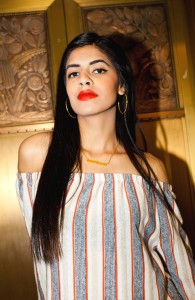 Going forward, Jasleen hopes to incorporate more collaboration into her work, and play more shows in Vancouver and beyond. As a performer, she strives to give her audiences a performance that is at once intimate and fun. She sees shows as an opportunity for the audience to get to know her. Her favourite performers are those who make her want to get up on stage, to be involved, and this is the feeling she wants for her audiences as well.  
"I love to point at people, look at them in the eye, say lines to them. I love breaking the fourth wall," she says, referencing her experience in theatre. "Being on stage is like [the audience] getting to know me, it's me hanging out with a bunch of people at the same time."
Considering what she has accomplished so far, I have no doubt that there will be a lot more people looking to hang out with Horsepowar in the near future.
x
You can get to know Horsepowar at the Bhangra Festival in June, where she will be facilitating a workshop on June 16 and performing on June 18. You can also hear her as a host of Crimes & Treasons, Tuesdays from 9-11PM on CiTR 101.9FM.