"Glad Rags: they don't talk much, they just giggle," comments Tracy Thorn, and she and her bandmates start to laugh from the moment I begin recording our interview. The statement proves to be half-true: there is no lack of laughter as we huddle over our mugs of coffee on a gloomy April afternoon.
Sitting down with Glad Rags is akin to finding yourself in the midst of cohesive mass of positivity. Throughout our time talking together, there is no lack of sentences being completed by other band members, and their inside jokes that are nigh impossible to keep track of or decipher. It's the kind of band dynamic that is built around mutual support and friendships that extend past simply making music together.
Glad Rags was initially a collaboration between longtime friends Selina Koop and Sarah Jane Taylor, guitarists and vocalists for the group. Koop describes their beginnings as follows: "We were like, 'Can you play guitar?' 'Not really.'" This led to a conclusion that starting a punk band would be a great idea, and their next question was, "Who do you know that can play drums?" And so drummer Andrea Demers was added to the lineup, along with Thorn on bass.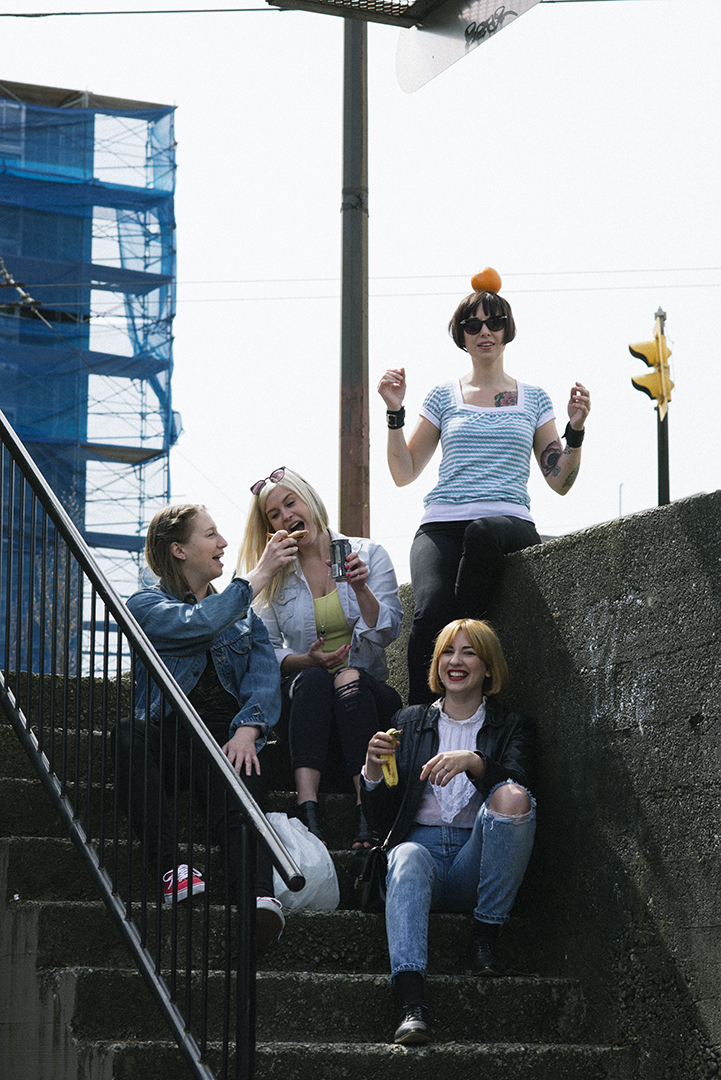 They were a cover band for a brief period at their inception and it served as a learning experience for then-novice guitarists Koop and Taylor — "Strings got broken every week," adds Thorn. Playing covers of bands like Bikini Kill and Hole allowed them to hone their talents. Writing original tunes came naturally, however, and the band released their debut self-titled EP in August 2014 a few months after getting together. The effort was a way to get Glad Rags out there, but their upcoming full-length Smile is more focused.
Recorded at Rain City Recorders, Glad Rags have upped the ante with faster songs and more of their signature to-the-point lyrics. There's an intentional cohesiveness to the release, with overarching themes, sounds, and aesthetics. "Recording itself is such a strange experience, and so we were more comfortable with it the second time," explains Taylor.
The title itself is tongue in cheek — there is no smiling on the album cover, instead an image of the band members' mouths smeared garishly with lipstick, surrounded by flowers. "It carries an aspect of humour … [being told to smile] is an annoying demand that gets thrown at people, and we're trying to make a joke out of it — this is how we're going to smile for you if you tell us how to smile," explains Demers.
"The whole thing is a reaction to the things we're not happy about from a female perspective," Demers says of Smile. Glad Rags are quick to point out, however, that they don't take themselves too seriously, nor are they trying to label themselves. "The initial attitude towards [the band] was 'Let's be loud instead of being quiet,'" says Taylor, and Koop is quick to note, "It was a 'Let's crank it to 11' kind of thing." For them, it's all about being less passive.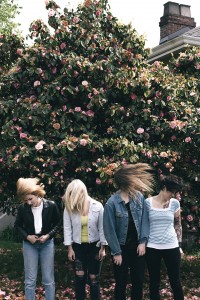 Amongst the loud beats and fast rhythms that are punk with a pinch of pop, Glad Rags are not shy about any of the subjects they address. "It started as, and still is so much fun, but all of a sudden it changed into 'Woah, we have a lot of things to say,'" explains Koop. "Anorexia" is the lead single off Smile. If the name wasn't provocative enough, the accompanying video shows some creepy footage of women 'exercising' in the mid twentieth-century, the machines surrounding them resembling an assembly line. "There's something about anorexia that seems about being totally in control, but also being not in control," says Demers. "The song is sympathetic to that, not judgmental of that," adds Taylor.
With all of these strong female themes, it's hard not to think of the word 'feminist' to describe Glad Rags. "It is like a feminist thing for me, in that it's a tool to help me express myself, and we're hoping other people will get something from it," admits Demers, but Taylor maintains that "It's all personal standpoints … We don't walk around with a title on everything we do."
They don't want to be pigeonholed as a band by making up their own genre labels such as 'popsicore,' and controlling their own image while maintaining an upbeat outlook. Proud of what they've accomplished, Glad Rags have even sprung for a vinyl release of Smile. "This is our first one, so we wanted to put it on something we really value," says Thorn. Koop adds, "Go big or go home."
Most of all, Glad Rags is a band that is unapologetically female and unapologetically fun. It's even in their name, taken from a vintage slang term that means to wear your nicest clothes, a juxtaposition of the position of 'glad' with the ominous edge that 'rag' brings. Their ambitions include having their own personalized chip merch at their shows, with all the best flavours merged together. "Being onstage and being a part of this entity … that's hugely empowering. I'm happy the stuff that we're saying is stuff that I'm also passionate about," says Thorn. From the chemistry and positive atmosphere that radiates from them, Glad Rags is a flavor combination that works.  
x
Glad Rags are opening for the Pack A.D. May 12 at the Cobalt. They will be playing an album release show for Smile at SBC May 28 with NEEDS and Spring Breaks. Glad Rags are also playing Music Waste and Sled Island this year, schedules to be confirmed. Visit gladragsband.bandcamp.com to listen.