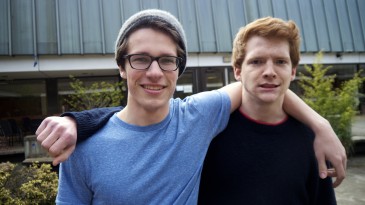 "Whatever's funky, baby." This is how the captains themselves describe The Soulship Enterprise, a weekly show at CiTR specializing in everything from soul to R&B to, most apparently, funk. At the controls are Robert Gorwa and Christopher Hunter, both well-versed in all things groovy: Gorwa plays guitar for local-funk group Jaguar and Hunter plays trumpet for the band Night Shift. After procuring some prime sitting real estate in UBC's students' union building, the boys of The Soulship Enterprise and I discussed the finer things in life like Ray Charles B-Sides, Pink Floyd, and Tupperware wine drinking.
How was the show started?
Hunter: I think the New Pornographers concert in grade 10 was the real start of our friendship.
Gorwa: I remember that. We drank wine out of Tupperware in the back alley behind the Orpheum. We were friends in high school, and we talked about getting a radio show at CiTR. I went to McGill last year, but as soon as I transferred back here we decided to go for it. We were doing it jokingly to begin with. We didn't think that they would let us on the air. When they did, we realized how legitimate it was. We learned about all the CRTC regulations and rules, which was weird. Anyway, the first couple of shows were pretty random, but we started focussing on the groovy.
How do you decide what to play on the show?
Gorwa: Chris and I split it in half. It creates an interesting vibe because the shows get this weird duality. Maybe one week I'll be going for a smoother soul aesthetic, with some Charles Bradley, Lee Fields, or maybe some Marvin Gaye. But maybe that same week Chris will be feeling something completely different, like instrumental fusion funk or afro beat. So our halves of the show can be completely different.
Hunter: We try to get stuff out there that wouldn't usually get any radio airtime or that we think doesn't get enough attention.
What local artists do you play, and how to you meet CiTR's CanCon and Femcon requirements?
Gorwa: There isn't too much funk in Vancouver. There's Five Alarm Funk, and we play their songs sometimes. Outside of Vancouver, HEAVy is a band I've really been feeling lately. All their tunes are in crazy meters, like 9/8, but it grooves really hard. In terms of Femcon, there are a lot of really brilliant female soul singers out there. Lalah Hathaway, Erykah Badu, or Lauryn Hill are all great. We even play Joni Mitchell. Sometimes for CanCon we have to play some weird shit.
Hunter: But it's still an interesting way to discover new stuff. It does force you to find new Canadian music.
You listen to a lot of technically skilled musicians. What's the value of musical technicality in genres like this?
Hunter: I think technicality is something that should be noticed, rather than striven for.
Gorwa: There are great bands that could be way more technical. For example, in a big band like Snarky Puppy, there's a lot going on. As we speak, they're recording with a 72-piece orchestra in the Netherlands. But even so, Michael League (composer for Snarky Puppy) is still not writing songs for the sake of being complicated. It breaks the mould but is still accessible, which I think is key.
What's changing in funk and soul music these days?
Gorwa: Right now there is definitely a funk revival movement. One of the big labels doing that is Daptone Records, with acts like Charles Bradley and Sharon Jones & the Dap Kings. I mean, a lot of that stuff sounds like it could have been recorded in the '70s. So there are certain kinds of old school revivalist bands popping up.
If you could only have one album, what album would it be?
Hunter: I'm gonna say Abbey Road. It's a classic, and it's what I grew up on.
Gorwa: You know those things that were going around Facebook, the "pick your top 10 album" things? I had so much trouble with those. I spent two hours trying to find a balance between what I used to listen to and my favorite stuff now.  This is like that. I think it has to be Wish You Were Here by Pink Floyd. I love Pink Floyd.[a]
What are some benefits and drawbacks of broadcasting from CiTR?
Gorwa: It's so varied here; the station's very nature promotes alternative programming. It's great, but sometimes it can seem extreme. In a sense, CiTR isn't allowed to play any hits, which can be kind of limiting for us considering the music we play. We can't play anything that has ever charted. If we want to play someone like Stevie Wonder or Ray Charles, it has to be some B-side from an obscure album because those guys were huge back then. But that's the fun of it, really. The show forces us to keep looking for things. It's a musical exploration every week. It's great.
To hear Gorwa and Hunter in action, tune in to The Soulship Enterprise every Saturday at 7:00 p.m. on CiTR 101.9 FM.