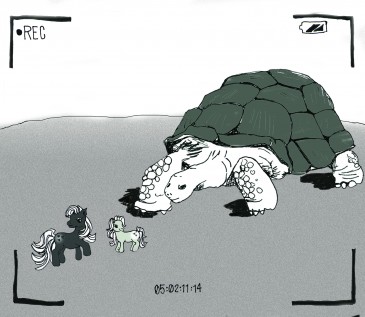 There's nothing quite like a well-crafted music documentary. It takes a certain sensibility to marry the two popular art forms and this year's DOXA Documentary Film Festival has a smorgasbord of music films to feast your ears and eyes on! From conventional rockumentaries to the more peculiar art-house films, there's something that'll arouse any music aficionado.
[In full-disclosure, I sit on the programming committee—meaning I've already seen every-freaking-film screening at the festival—so I can say with full confidence that the music documentaries we're serving up this year are real good.]
Politics thriving through music is a prevalent theme this year.  In the wake of music-as-marketing and apathetic party anthems that continue to permeate the mainstream, these musical portraits are refreshing, to say the least. Unlike the standard rock 'n' roll story that relies on fame and tragedy, these docs explore DIY ethos and communal convictions that are the driving force behind the music communities they showcase.
Pete Seeger: A Song and a Stone, the first music doc of the festival, is made entirely of archival footage from the 1960s, when protest anthems dominated the popular milieu. Come Worry With Us! casts an intimate look into the life of musicians, lovers, and parents Efrim Menuck and Jessica Moss of Thee Silver Mt. Zion as they struggle to balance parenthood, money, and ideals while on tour with their young son. Revenge of the Mekons provides behind-the-scenes encounters with post-punk legends the Mekons, in all of their anti-establishment glory. This Ain't No Mouse Music provides a history lesson in the "people's music" and "down-home" jams from blues revival to Tejano, Cajun, zydeco, bluegrass, and Appalachian country. Death Metal Angola turns attention to how a growing metal scene in Angola is helping to heal a generation who are still recovering from years of civil war.
Moving from narrative to the more abstract, where musicians are the composers instead of the subjects, the following experimental docs demand to be listened to as much as watched. Bloody Beans, a wildly compulsive film about the Algerian War as told through a gang of street-kids, is made all the more phantasmagorical thanks to the score by French electro-pop duo, Zombie Zombie. Similarly, Montreal-based electronic musician Tim Hecker provides the soundtrack for Massacred for Gold that creates a sensory experience, helping to unearth a forgotten history of injustices done onto the Chinese miners of Hells Canyon. Using song as narration, collage-animator Jodie Mack crafts a delightful homage to her mom's failed rock poster shop in Dusty Stacks of Mom. The result is a bizarrely satisfying animated rock opera.  In Unplugged, an alluring Tarkovsky-esque study, two strangers in Serbia play one of the oldest (and most high-pitched) instruments in the world, the leaf. Small Instruments is a lively short film starring a group of ragtag musicians in Poland who orchestrate sounds using found objects and children's toys.
Of course music is an integral element of all film, but something oh-so magical happens when the camera is turned onto sound itself. The combination of observation, performance and reflexivity is what makes music documentaries so special, for in these films, like music itself, emotion is the driving force for unpacking truth.  They have an ability to share personal perspective, while sorting through perplexities without a reducing one's experience to a single issue. Once again, each of these films prove that music—and music communities—are key to understanding for the world around us.  That or maybe it's just as simple as a good song makes for a good movie.
To see any of these fantastic music documentaries, make sure you attend the DOXA Documentary Film Festival between May 2-11. For more information visit: www.doxafestival.ca