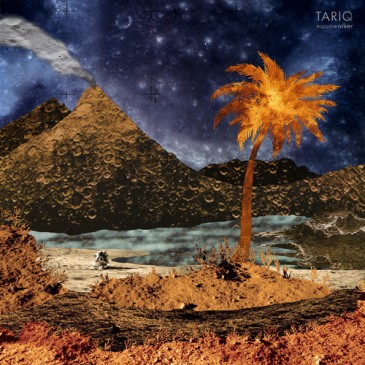 If Vancouver group Brasstronaut had a control panel, one switch would be for ambient synth, a knob for rhythmic acoustic guitars and a dial for pulsating bass. On Brasstronaut guitarist Tariq Hussain's solo EP, Moonwalker, he employs that same control panel, but cranks down the keyboards and echo, and tunes-in a more stripped down folky arrangement. The result is a crafty blend of spaced-out synthesizers hovering in the background with some knee slapping beats, acoustic picking guitars and vocals hanging on the folk-pop side of things.
Opening track, "Annalee" is a classic ode about a girl with country storytelling lyrics with a twist of synths fluttering around. A nice moment in the track is the little call-in-response outro between Hussain's wooing, and the responding keyboard mimicking his vocals. In second track, "Leaving Song" there's another touch of Hussain's clever songwriting as he sings, "Howling at the moon" while the tender howls of the backup vocals, provided by Leah Abramson and Jody Glenham, respond. On the track Hussain's voice enters the atmosphere like it's calling down to ground control before breaking down to a moody hitchhiker's anthem.

The last three tracks on Moonwalker gradually move away from the otherworldly atmosphere and are straight acoustic folk-pop. Though a slight disjoint from the instrumentation of the first two tracks, they still feature enjoyable arrangements within the perimeters of their genre tradition. "Cold Lake Waters" features a lovely galloping clarinet as the song reaches a thumping finish. "Front Row Seat" is most out of place by not carrying out the rest of the EP's themes of departure and goodbyes, but it stands alone as a sweet old-time country love song with gushing and witty lyrics like, "I'm not giving up this front row seat/ I'm calling shotgun on your heart." How cute is that.
Closing track, "Moonwalker" is the same track on Brasstronaut's Mean Sun, but given the stripped down country-folk treatment. Hussain's voice on the EP sounds thin, especially compared to the lush and ethereal echoes of its previous version. However, it is an appropriate ending that perfectly captures the EP's intriguing mix of genres, leaving this listener with the distinct image of a beat down, cowboy hat-clad traveler, hitchhiking his way from the hot empty deserts of earth to the cold and barren surface of the moon.