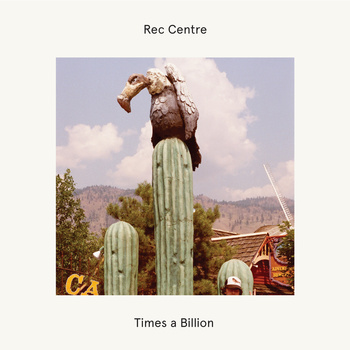 The bedroom recording project medium has been around long enough that it deserves its own genre, one often typified by hushed vocals, digital reverbs, electro flourishes, drum machines, and pensive lyrics. It could be yet another example of form influencing content. The process of composing, arranging, and performing in near solitude at a computer is conducive to these brooding and textural sounds.
Enter the Vancouver-based Rec Center, featuring Alex Hudson at the helm. Rec Center's full-length debut, Times A Billion, is easily categorized as bedroom-pop (all the songs are worked around electronic drum samples from a Roland TR-707). However, at every other turn, it fights against this and aims towards anthemic pop. Times A Billion is a fitting title for the resulting expansive and ambitious tone of these songs.

"Let's Get Divorced!" demonstrates how Rec Center uses bedroom-pop tropes in big ways. Hudson's roommate/ producer, Jay Arner, offers streaks of electronic texture to the propulsive drum machine beat, which stays basically the same throughout — but you wouldn't even notice. It's Hudson's keen sense of melody that guides the song around a couple of jangly guitar lines in and out of an ascending chorus. Textures and melodies slowly morph above steady rhythms, which give a trancelike sense of fluidity to the song's pacing.
All the songs on Times A Billion are concise, catchy pop songs with distinct sonic fingerprints (see the nu-gaze krautrock of "Look Alive" or the muted synth-reggae of "It Won't Mean Anything"). Despite Times A Billion's relatively humble origins, it achieves a sense of grandeur (maybe because Hudson's voice sounds eerily similar to that of Phoenix's Thomas Mars). But it's this understated expansiveness that makes Rec Centre's full length debut such a charm. It's like those films about the vastness of space projected on the ceiling of the planetarium. There's that impression of being dwarfed by something huge and mystifying, even if the reality is solely a well-executed spectacle.