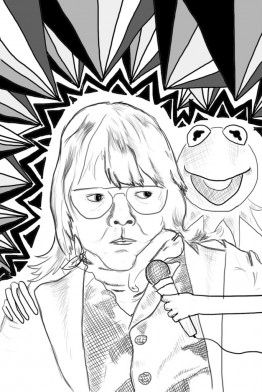 Prior to Paul Williams: Still Alive, Stephen Kessler had directed two feature-length films (1997's Vegas Vacation and 2000's The Independent) and dozens of commercials. The release of his latest film came 12 years after the last, and to compare this work to earlier works would be crime — at least, that seems to be how he sees it.
At a glance, Still Alive is a documentary about the life of Songwriter Hall of Famer, Grammy- and Academy Award-winner, and composer Paul Williams, whom Kessler spent his teen years obsessing over. Many are familiar with Williams' work through the Carpenters ("We've Only Just Begun"), Barbara Streisand ("Evergreen" from A Star is Born), and Kermit the Frog ("Rainbow Connection" from the Muppet Movie). As Still Alive starts, we quickly learn the gist of things; Williams won his awards, succumbed to alcoholism, and died—until Kessler finds out on a whim one day that Williams is very much "still alive" (any similarities to Searching for Sugarman end there).
In 2006, Kessler discovers that Williams will be performing a concert in Winnipeg. One ticket and a substantial amount of pestering later, Williams allows Kessler to make a film about his life, assuming Kessler will keep a respectable distance. Kessler of course doesn't keep any distance, and ultimately it's Williams' and Kessler's celebrity-fan chemistry that makes this video biography absolutely engrossing.

Still Alive is a touching, honest film about finding peace in one's life. Kessler finds peace in both making a film he is proud of and in meeting his idol. As for Williams, he finds peace in something his younger self would have never dreamed could satisfy him: support. Williams, then and now, often speaks at events for recovering alcoholics, because he understands the pain of addiction.
Around the first half hour mark, Williams says something that resonates throughout the rest of the film:
"There's a big difference between being special and being different … To be different is difficult, to be special is addicting."
As Kessler shows us, the older, profoundly sincere Williams overcame his addiction to feeling "special," along with beating both alcoholism and cocaine addictions. Williams opens up to Kessler and the camera, oftentimes irritated, but every so often teary-eyed as he acknowledges just how much he has accomplished in life.
But for every moving moment in Still Alive, there is usually something quirky to go with hit. The film is subtly hilarious, and often the silliest things that Williams says and does (Kessler's wit helps) will get you laughing more than it probably should.
Paul Williams: Still Alive is a beautiful film that tells the story of a good man and reminds its audience that although life can be difficult, there will always be time to find peace. Don't miss this one.