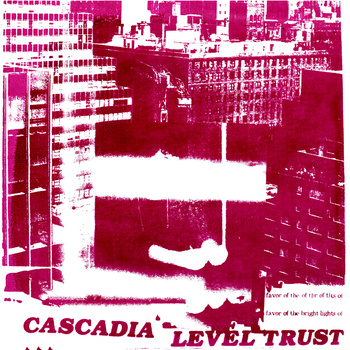 Cascadia's sound is a beautiful paradox of noisy, chaotic sludge rock counterbalanced by wistful if melancholic dream pop. Their latest release Level Trust plays with these contradictions throughout its four tracks, showcasing the strengths of the band's multi-faceted sound.
"Josie" showcases their tight grip on dynamics as a charging punky intro gives way to light, understated verses complemented by Sasha Langford's airy vocals. A seesawing outro concludes this track, highlighting aggressive buzzsaw guitar work. Track two, "Yours," speeds along with throbbing, thick-as-a-brick bass lines and rapid fire high-hat rattling on an up tempo verse. Langford's vocals soar over the instrumental ruckus, deftly contrasting melody with madness.

The fury of the first half of the EP gives way to a pair of slower, more atmospheric tracks that emphasize the group's shoegaze influences à la My Bloody Valentine. "Deny" features echoey guitar work, which plays well off of the pulsating, low-end heavy bass, as they meet together to create the most anthemic and memorable chorus on the release. The concluding number "Ever" shrouds the listener in a cloud of despair as the bass anchors the doom and gloom melody throughout the verse while Langford's vocals produce a sense of desperation in the refrain "You said."
Level Trust is a picture of a band working well with every aspect of their sound. If you're willing to wade through the mire, Cascadia have plenty to offer the discerning alternative rock fan.