Sam Tudor lives nestled in Kitsilano between sky high hedges and huge homes. Something I find funny about those neighborhoods right near the UBC campus is that the residents are a very obvious mix of wealthy families and university students. It is a quiet area, and I catch up with Sam in the late afternoon: "I always want to drink tea when I'm about to go to bed so I saw this and it seemed like an obvious choice. SleepyTime for a sleepy time."
Sam Tudor and his band are primed to release a new album, still untitled at the time of our interview. It has been dormant since their last release, Modern New Year in 2014. With Tegan Wahlgren on violin, Jasper Wrinch on bass, and Harry Tudor on drums, Sam headlines the project as the lead singer, guitarist and songwriter. But as he expresses, he's not totally comfortable in that role: "If I could go back in time I would've had a cool stage name, but I guess we're too 'in it' now."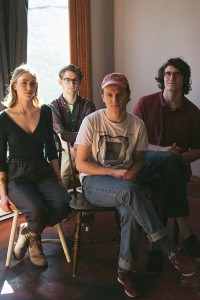 Jasper, Tegan and Sam met just a year and a half ago, and formed the band after a jam session where "it all just clicked." Harry, Sam's brother, joined after moving to Vancouver for school. Speaking to their dynamic, Sam provides the space and music, and the band members bring their own talents. They have projects outside of Sam Tudor that have influenced the sound of their new album.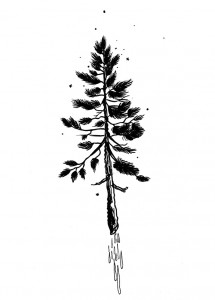 "Jasper is really good at creating a general atmosphere of weirdness. Before, I thought of music as just a vessel for melody and words, like, I didn't focus as much on the layers and the 'world' of the song," explains Sam.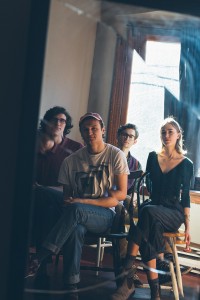 This new-found awareness, due in large part to the band's influence, is evident on the new album. Sam plays with production techniques to create a dreamy and intimate ambiance in a way that deviates from his earlier releases, both with instruments and vocals. The addition of Tegan's violin elevates the ethereality of Sam's vocals on the album and during live sets.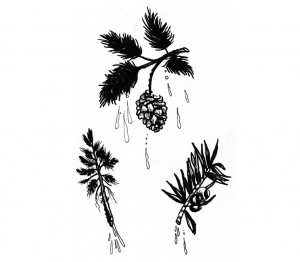 "I think [Tegan] gets a really human sound from her violin," elaborates Sam. "I've had moments during a heavy part of the set where I think it could be a person screaming in anguish or something, and that fucking tears me apart."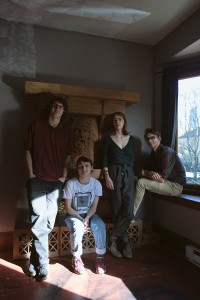 Modern New Year was mostly produced by Sam, alone in his room, as simple as possible. Over the last three years, the further integration of band members has expanded Sam's sound from the intimate hominess of his first release, to the stronger and more experimental work of Sam Tudor, as reflected on the new album. Sam, Tegan, Jasper and Harry seem to collaborate in fluidity. Sam explains, "We rehearse, but we don't really arrange parts. I don't orchestrate, because I don't feel like I have to. We just sit down, and every band member brings their separate influences to whatever the melody is, and that's the song." The new album also features contributions by Craig Aalders and Brandon Hoffman.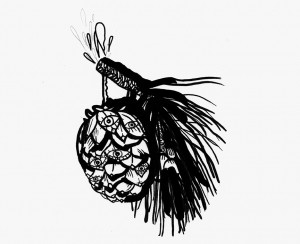 The releases of Sam Tudor's two separate albums bookend Sam's university career, where he had studied film at UBC. He used the opening scene of David Lynch's Blue Velvet to describe the major theme of the new album: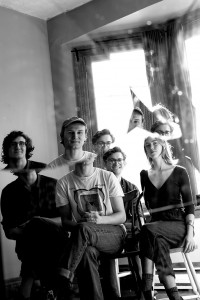 "It begins with the picture perfect, fairly sanitary town, and the picturesque firefighters drive by, and everything seems nice if not a little strange, and then the camera slowly moves towards the ground and actually goes into the earth and through the blades of grass until they find that severed ear. Ear aside, it kind of proposes that under all the nuclear lifestyles and well manicured neighbourhoods, there can be something ominous and dark. Slightly askew. I love the idea of taking an idyllic seeming situation and pulling it apart slightly, like, showing a sort of unspoken pool underneath."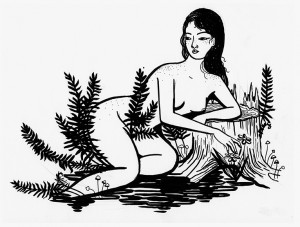 (Fittingly, one of my favourite songs on the album is called, "Chlorine.")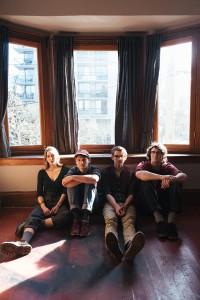 Sam Tudor has rejected the idea of performing a distinct genre, their album recounting a fresh spin on the familiar narrative of transitioning from small-town rural life to the big city. Sam explains, "There was this huge folk zeitgeist that I came to hate, and I wanted to make music that was deliberately 'apart' from that. But that's a problem too, because then you end up making music that is reactionary."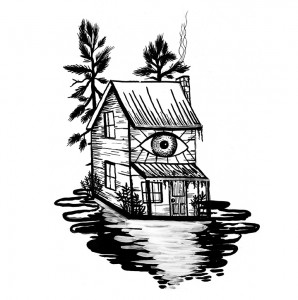 The new album isn't just anti-folk, it strives to resist all genre labelling, due in large part to Sam's personal experiences. "I've got to a point of like 'fuck thinking about genre in the first place'. The bus I rode to high school only played Kenny Chesney and Tim McGraw and that led me to believe I hated country music. But later I discovered like, Linda Ronstadt or Emmylou Harris and when I listened to some of those gorgeous songs, I'm not thinking about what genre it is. I am just crying in the car because it's beautiful."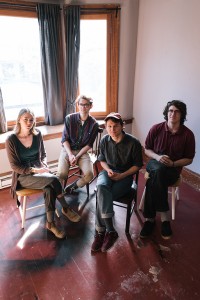 Sam's love of cult cinema is perhaps the most striking influence on the new Sam Tudor release. Sam's songwriting plays with the real and unreal, surreal and grounded. The songs are dreamy but intimate, as any classic cult film is, and lovingly integrates the mundane and the spectacular. "I like to think of it as that state where you're lying in bed and staring at the screen and you're kind of asleep, but also hyper aware that you're awake."
X
Sam Tudor's new album will be released at the beginning of April. Keep in touch at samtudormusic.com or follow on social media for details on the release show.