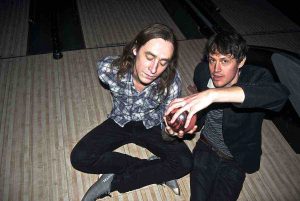 "You better go get some shoes."
Under normal circumstances, an afternoon at the Grandview Bowling lanes would seem commonplace; but on a pleasant Sunday with ambient electronic duo Sur Une Plage, it's the perfect setting for an interview
Surrounded by pizza parties, young children, and men drinking beer, Sur Une Plage's laidback atmosphere and impressive bowling form instantly break the ice. The lane's vintage pins and homey atmosphere disintegrate any distance between interviewer and subjects — so much that I decide to save my questions for after the game, opting to focus on trying to bowl straight and not lose too hard.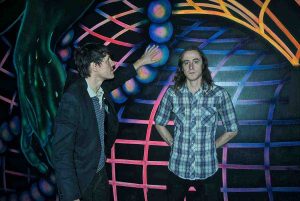 Feeling a bit out of my league, I watch with Joshua Wells as his bandmate Colin McKill bowls a strike on his first try. Thought it ultimately proves to be a feat of luck rather than skill, the strike is still intimidating.
"I just want to make sure that it's noted how clutch that was," says McKill, "because that was pretty clutch. I was like, 'Oh man, maybe bowling is super easy' and then I got, like, one other strike the entire time … [That's] the first time I've played in two years."
While bowling may not be a full-time passion for the two men, they do share the pastime of music together. Both are involved or have been involved with a myriad of recognizable Vancouver bands, including Black Mountain and Hard Drugs, but our focus for the interview is on a newer collaborative project: Sur Une Plage.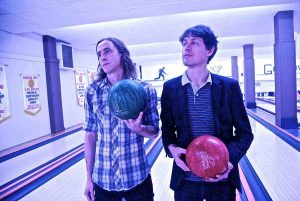 The pair's debut album, Legerdemain — which translates to "sleight of hand" — is a gratifying listen filled with cosmic synths, a heavy-beating bass heartbeat, and forlorn lyrics centred around tragedy. The album itself was influenced by a manifestation of music heard during childhood and the beats of hip-hop; while McKill likes the precision and beats of electronic music, and tries to "inject some sort of feeling" into robotic walls of sound, Wells is "really into the primal years of synthesized music and particularly when that collided with pop music."
The albumwas recorded and produced at The Balloon Factory, a studio Wells shares with his partner in the band Lightning Dust, Amber Webber. The origin story of the studio and jam space is something of a mystery: it's called The Balloon Factory because their landlord claims that's what it was before they moved in, though neither are convinced he's telling the truth.
"No one believes him for a second that there was actually a balloon factory in a sketchy basement in East Vancouver," says Wells, still in denial.
Aside from recording and producing Legerdemain in their own space, Sur Une Plage are enjoying the kinds of freedom that come with releasing an album independently — or rather through their own record label, Party Product.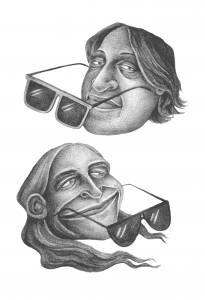 Wells and McKill opted to release on their own label so they could have a quicker release time by not having to pitch and then become part of a release schedule. Wells has always wanted to see a record through start to finish, having experienced producing punk cassettes and seven-inches, appreciating the creative process, and having worked on LPs with other bands.
Another benefit to having their own record label is that McKill and Wells were able to control all of the marketing for their new LP. Hard to witness and yet easy to absorb, Sur Une Plage's goal with their YouTube channel is to above all make people laugh while announcing tours and releases. Marketing isn't their first priority, so they decided to have fun with filming. Purposely awkward, with terrifying jump cuts, colour inversion, and the inclusion of Chauncey, a white 1988 Cadillac, their videos are definitely worth checking out.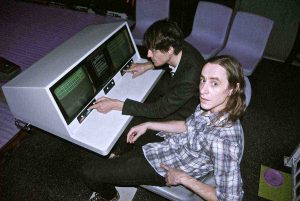 In terms of other band promotion, the duo has also created a perfect link between the record's sound and its artwork. McKill explains: "The literal interpretation is it's the interior light from this 1988 white Cadillac that I stumbled across." The extreme close-up of the light creates sharp texture, not unlike some of the harder synths sounds in their music. It also shows square symmetry to the vortex of an otherwise black cover. A mutual love of vinyl, they believe that the physical act of putting a needle on a record establishes a secondary intimacy with the music, making listeners establish a relationship with the sound. As Wells puts it, "This record feels as good as it sounds."
Experimenting with wintery electronic sound and leaving behind the traditional band format, Sur Une Plage have complete control over what they do, aiming to enjoy themselves through learning and creation.
Sur Une Plage's album Legerdemain drops March 17, available through local Vancouver record stores, online, or through their Bandcamp.