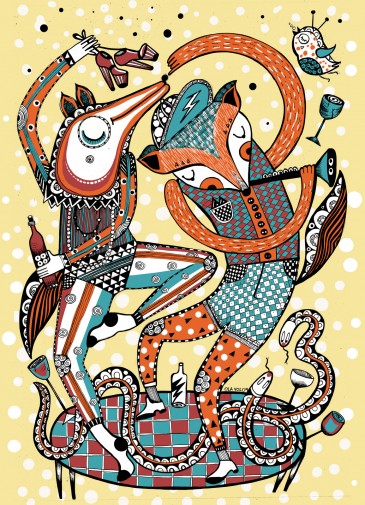 In a sense, my tour of the Fox Cabaret began before I even entered the building.
I arrive early at the Fox to meet Danny Fazio of Arrival Agency, the group responsible for transforming Vancouver's last porn theatre (the last establishment in all of North America to screen 35-mm porn) on Main Street near Broadway into a music and cultural venue. The marquee of the building has been freshly painted and new bubbly-lettered "Fox" signs hang above the entrance.
As construction noises echo from within, I wander around to the back. In the alley, bordered on one side by a new condo development, I pass the rear door of the theatre, where all manner of god-knows-what took place. On one side, a faded poster pasted to a dumpster of a strung-out-looking Iggy Pop; on the other, a security guard for a condo development.

The scuzzy but character-ridden Vancouver of the alley, the trash, and faded gig posters has long been beset by the forces of development, real estate values, and gentrification. No one knows this better than the guys from Arrival, whose Waldorf Hotel venue on East Hastings ground to a halt last year when the building was sold to a condo developer.
Inside the Fox, I meet Fazio and another third of the core Arrival team, Ernesto Gomez. The renovated space is cavernous, with a long bar along the right side of the former theatre area leading up to a large stage. Red and silver paint is caked presumably several layers deep on the once appallingly filthy walls. Upstairs, in what was the projection room and balcony, there is now a large room with a bar, and booth seating where the projector windows remain in the wall. A small battered sign leaning in the corner advertises the old Fox Theatre's daily fare of "three adult movies starting at 11 a.m."
"It's a little bit like the Dr. Who phone booth; the entranceway is quite small and then you come in… it's a big space," says Fazio as we stand in the upstairs room. "I'm really excited about this bar here, this area. We're seeing it as kind of our neighbourhood bar that'll be open seven days a week."
Gomez explains that Arrival had been eyeing the Fox even before the messy business with the Waldorf's closure took place.
According to Fazio, the Fox provided a new opportunity and had several obvious upsides. "Everything we had issues with at the Waldorf, this place was the exact opposite. We had a huge issue with our location at the Waldorf. It's in the middle of nowhere; it was always a challenge for us and this place is in the centre of everything — as far as we're concerned."
"The Waldorf was a very complex size and space," Fazio continues. "The layout was a maze of all different rooms and it was really tough to book. Here, what we love about this place is the simplicity. It was a theatre, so it was meant for performance. It's a big black box with a stage at the end of it, which is a perfect size for the kind of entertainment we want to put on. We just feel like Vancouver is lacking in venues for mid-size bands. There's a real vacuum there and we feel that this fits in really perfectly."
Gomez runs through a mental list of the types of events Arrival is looking to house at the Fox, from concerts to art shows, performances, and films. "Even at a programming level, we're being inspired [by the theatre's history]," he says.
"We really want to start our shows early the way you would start cinema stuff and program it throughout the week with different cultural programming. From comedy to jazz, to rock, to you name it — completely eclectic."
Local architect Scott Cohen, responsible for the Fox's revamp along with the Waldorf complex and numerous other local institutions, shared Arrival's preservationist vision for the space. "He, like all of us, is really interested in preserving authentic spaces in the city," explains Fazio. "There is always this feeling of danger in Vancouver, that we're losing this city to development. So we're all about preserving these authentic spaces and that approach definitely bled into what we've done here. It feels a lot like a theatre still." Gomez made sure to point out that prior to its porn years, the Fox was in fact an art house cinema.
Fazio and Gomez emphasize the community of artists and groups on standby, awaiting the opening. "Building a community around it is important," says Gomez. "We're very close. A couple of weeks… it could happen faster than that. At this point, because we work with so many people, everyone is kind of on alert and everyone is supporting the project, so if we're a go, everyone is all ready to start putting things together and work together. It's not just us. We see ourselves as facilitators in a way. There are a lot of people waiting for this place to open."
The paint fumes start to bother Fazio, so he leads us to the railing of the balcony, pointing out the original projector screen still in place, obscured by the last remaining scaffolding. With one last inspection standing in the way of the Fox's grand opening, both men seem almost giddy at the prospect of the project being finally up and running. [They passed inspection the day after our interview.]
"We've always made a big effort to make sure everyone leaves happy, the artists and customers as well," says Gomez. "I can't wait to open to be perfectly honest. It's been quite a ride."