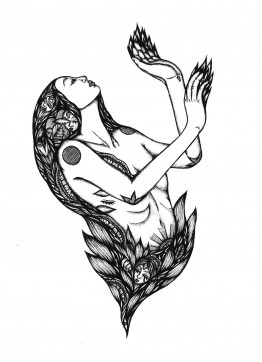 Pina is a conceptual 3D documentary that pays tribute to German choreographer/dancer Pina Bausch. Near the beginning, the film cuts to archive footage of Bausch instructing her class. She states that words cannot fully describe or express one's feelings and so, that is when dance comes into play. The film inhabits this motto and expresses Bausch's persona, talent and influence through visuals and dance rather than straight narrative.
Pina is a stunning work that transports the audience from one gorgeous backdrop to another, which becomes the stage for a string of captivating dance routines. For instance, Bausch's troupe of dancers recreate her interpretation of Stravinsky's "The Rite of Spring," where the dancers desperately trudge through a dirt-covered stage, while the tormented and bizarre "Café Müeller" has three women clumsily walking through a sea of chairs and into the walls like broken windup toys. The audience glides along and moves in and out of each dance with an omniscient presence, which is only further enhanced by the 3D.

Wenders' film exudes the German director's signature whimsy and surreal style. One moment a dancer is contorting in a washed out auditorium and then in a flash, you are in the middle of traffic observing a couple serenading their love to each other.
When a new dancer is introduced, they are framed facing the camera in a typical talking head fashion. However, their thoughts are shared through voice-over only, while they stare silently back at the camera. It deliberately distances the audience from what the dancer is saying and highlights the inability that words or talking have when it comes to fully expressing their emotions. Their dance performance follows and it is through the dancing that we get a better understanding of their memories of Bausch. Dance does the talking and allows each dancer's distinct personality and voice to be brought to the surface.
In a day and age where figuring out a person's birthday, childhood, or favourite food is only a click away, there is no need for the documentary to be overwrought with these easily accessible biographic details. Instead, Wenders combines film and dance to evoke the aura of an artist through the art itself. Wenders pulls in and maneuvers the viewer through magnificent scenery and literally makes the audience feel the depth and layered beauty that Bausch's work ignites.