Vancouver faves Dumb talk new music, rotating line-ups, and what it's like to get signed and work with Mint… Plus, hear their brand new track "Soft Seam" here first!
x
Red Gate's new venue, in the curious building that once held Vancouver Arts & Leisure, seemed a fitting place to meet with the members of Dumb. The walls are decorated with drawings and scratches collected over the years. As we admire the artwork and explore the unexpected rooms, I can't help but draw a connection between the space and the band. They're a mainstay of Vancouver's music scene, decorated with almost half a decade of live performances, three releases, and most recently, a signing with Mint Records. After appreciating a portrait that Pipé Morelli (drums) made on the wall upon a stranger's request some years before, we sit down to talk about their forthcoming album, Seeing Green, and what's happened since we last covered the group.
We open the conversation on the topic of personnel changes. "Grad school kept stealing our bassists," says Franco Rossini (guitar, vocals). Shelby Vredik (bass) was a member of the band at its genesis, but left to work on other projects. For the Tulips EP, Brett Barmby stepped into her place. After Brett moved to Montreal for school, Franco's brother Gavin Ray picked up the bass for Beach Church and Mustang Law, their next releases – before he too, caught a plane out East in search of higher education. "Shelby came back at the perfect time," says Franco. Their original lineup restored, the band then recorded EP 5$ OR FREE, their third and final release of 2016.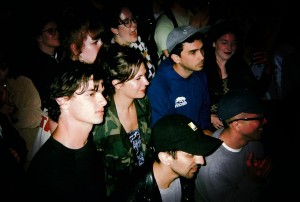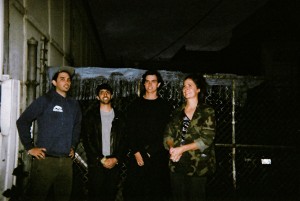 Though the year and a half between those releases and the upcoming album didn't produce any recorded content, Dumb has been keeping busy. After a little deliberation among the team, Nick Short (guitar) decides that those two years contained a definitive 3.25 tours, reaching both eastward and onto Vancouver Island. Even when not on the road, the group plays frequent local shows – as evidenced by the four or five they readily list for this month alone. But amidst all of this, the group also found time to focus on more than just Dumb. "I think it was a good time to be more involved in the music community, working with other bands and on personal stuff. [And] I had to get a full time job at some point. We all have to work full time," Franco adds. In the way that pressure and time turns coal to diamond, their frequent performances, fine tuning of skills, and time invested in the music community has crystallised into one of their most notable achievements in these years of release-hiatus: catching the attention of Mint Records.
"It's like a [budding] relationship. Like, what signals are they sending me," Shelby says about the process of getting signed. Dumb had around seven songs near completion when they started talking with Mint. But nobody simply gets signed – especially on a label that works on grants, as Mint does. "They want to see you play, talk to you, get to know who you are," says Franco. With Mint obviously liking what they saw and heard, hands were shaken, and Dumb set to work with new enthusiasm. "There's a lot more to do," says Franco about working with a label, "but otherwise it's the same. They're great. They haven't tried to change anything." For Dumb, having the support of the label means an opening of doors in terms of promotion and show bookings, as well as, most significantly, recording opportunities.
For Seeing Green, the members of Dumb took a ferry to Vancouver Island, where they met with Jordan Koop – a producer who's worked with the likes of Wolf Parade, You Say Party, and The Courtneys at his home-recording studio on Gabriola Island. Since Koop had already mastered Beach Church, Dumb had an existing rapport with their producer. "[Jordan is] such a professional. He's really good at suggesting things without changing them," says Pipé. After six days in the studio, the band emerged with Seeing Green, their most refined release to date.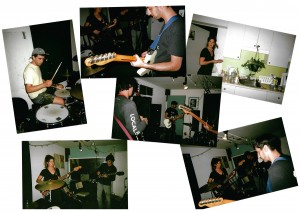 The record is 14 tracks of cutting guitars, strong rhythm sections, and vocals you can shout along with. Mint's support and Jordan's expertise work to deliver a record with clarity and polish, without sacrificing the band's signature capacity to draw humour from difficulty – and have fun doing it. Seeing Green gets its name from themes of greed, money, and growth. "We aren't trying to preach. It's not explicitly political. If we made a Venn diagram on the subject matter of all the songs, those ideas would come up in the centre. And we liked the idea of tying them to the colour green," says Franco.
Dumb's forthcoming album serves as a perfect testament to the truth that, even if we aren't deliberately seeking it, with time and care growth comes along. And, like the vinyls for the record, it's often green.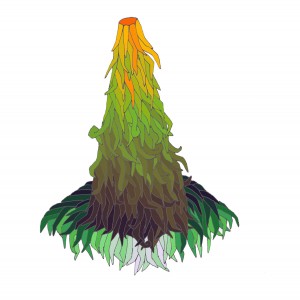 You heard it here first: be the first to listen to Dumb's new single, "Soft Seams"
And if you like what you hear, get yourself to the release show happening June 16 at the new Red Gate, where you can also check out Supermoon, Fountain, Nick Normal, and Sister Blanche.
Seeing Green is out June 22 on Mint Records… but if you want to ensure you get your hands onto one of the 100 limited edition green vinyl copies, be sure to pre-order your copy through their online store today!