The thing to remember is that at the time, there were only two kinds of beer: Labatt's Blue and Molson Canadian, both in cans. As university students without any money, beer was the cheapest alcohol, but try as I might, I just couldn't learn to like it, so my friends and I ended up drinking water and dancing instead.
That year I spent in Québec City was preceded by a huge concert we'd been hearing about in Vancouver all summer: Heatwave '80. It was supposed to be headlined by The Clash, but there were lots of other great acts on the bill. I bought tickets on Granville Street, and packed my new wave shirts and pants from Foofaraw, a local shop with clothes that were very striking, to the extent that when worn on the street you would get a lot of doubletakes.
I'd convinced Colleen and Marianne to come along for a school-year-long adventure to study French at Laval University in Québec City, and we met up at Marianne's folks' in Burlington, where I soon found out that the two of them weren't at all interested in the weird kind of music I liked, nor in going to the concert. Luckily, Terry, a game-for-anything Vancouver friend showed up in Burlington ready to brave the bus ride there, and sleeping out in a field to see the concert. The two of us hit the road with sleeping bags and food packed by Marianne's Mum, and I sold my extra concert tickets on the bus on the way to the show.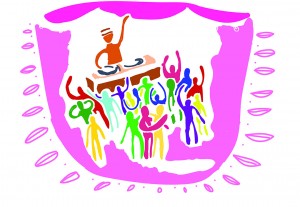 The venue was a massive stage set up in fields surrounding the Mosport speedway, and the concert was amazing. Opening act Toronto punk band, Teenage Head sucked, but everything else was unbelievable (except for The Clash cancelling, which also sucked). The Pretenders still had their original line up, and it was one hit after another from all the bands, which included Talking Heads, Tom Petty and the Heartbreakers, and Elvis Costello. Tom Tom Club stole the show, but every band was in their prime and playing fabulous sets, excited by the beautiful summer day and the huge crowd of kids cheering from the grass fields that were banked like an amphitheatre for perfect viewing. The B-52s were my favourites for their girl-group harmonies, crazy style and danceability. I also loved Rockpile, who were not punk, new wave or art bands like the others, but an un-categorizable talent whose playing and songs I loved.
Once we got to Québec City to start school, I found a group of friends who liked the same kind of music I did — we found each other when I used the tapes I had made of my records from home to give an oral presentation in class on Vancouver bands. I proudly played songs from bands I liked, like Pointed Sticks, Maurice & the Cliches, Young Canadians and others. Vancouver was exotic, remote and glamorous and everyone enjoyed the presentation (en Français).
Dancing and music brought us together in many ways; I met Senegalese students on the dance floor who were charming, beautiful and loved to dance as much as I did. My roommates and I visited L'Après Onze in Québec's vieux quartier and paid the $1 entry fee to dance all night, pester the DJ and drink only water since we hadn't been able to develop a taste for beer. We saved a lot of money that way.
Live music in the small clubs in Québec City was mostly Les Blues, but one night, from far away Belgium, came something different — Plastic Bertrand…