Hitting a golden mark for HOLY SMOKES, a young but accelerating music-promotion project based in Victoria, Lucky Bar saw the introduction of a new band, Superfashion, the release of a new single by Croatia, and the long-awaited debut of Bodies' self-titled album.
Superfashion made a strong first impression, as evinced in the bobbing and swaying of keen listeners and the ensuing howls of support. Their instruments burst with repressed energy and guitar notes pierced through the resounding mushroom clouds. Hoarse, heavy vocals were neutralized by DIIV-like riffs, challenging the audience's flexibility and winning their approval. The triumviral setup soon cleared the stage for Croatia, but not before deftly dropping the mic for their budding fans.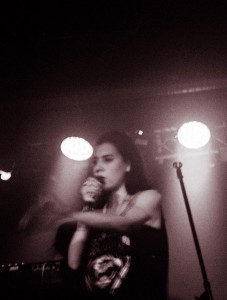 I was caught off guard with the expectant crowd Croatia had amassed. The scuffed floor disappeared under a wave of friends saturating the air with shouts and hollers. The band's synth-heavy electronica coupled with Tashiina Buswa's half-whispered, half-moaned croons diffused an enigmatic atmosphere which grew as Buswa's eyes intensely searched the crowd. She occasionally ducked out and sang into the dark corner where the brick wall and back door met, highlighting Steve Mitchell on the synthesizer, Matt Dell on guitar and Ben Erikson on drums.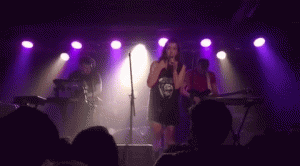 After a stimulating cover of MØ's "Fire Rides," Croatia sped up the tempo with their new release, "Backseat." However, they best engaged the audience with their plutonic vibe — Buswa perched on the edge of the stage, making telepathic connections with those who dared to hold her gaze, or writhing in the tunes released by her band mates. Croatia was indeed an all-consuming force of music and movement, and yet the end of their set — perhaps seen as a herald for Bodies — only restored the energy lost throughout the night.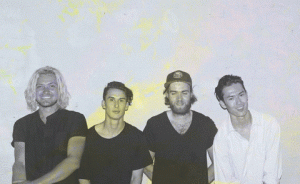 Comprised of Jacob Bentley, Calvin Paterson, Paul Shenton and Tyler Paterson, the math pop/bedroom rock band was drawing in all the love with their acute notes and heart-tugging lyrics. Especially laid out in the song "Weak," Bodies is more of a personal enterprise for Tyler Paterson. About "the dawn after a breakup," the album is basically the result of sucking the poison out of a relationship gone awry and of the survival of disillusionment. "It's been a bit of a therapeutic thing for me," Tyler reflected.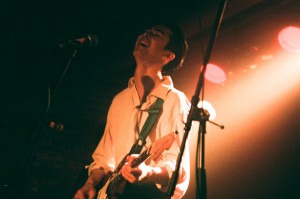 Still, the album is a product of the 4-piece band and a token of the house (and bedroom) they recorded in before they got kicked out. The video for "Weak," released late April, also directed Calvin Paterson out from behind the drum kit — it was his "time to shine for real."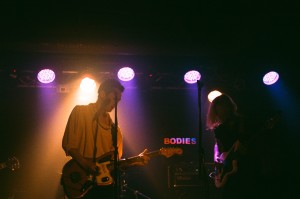 "Thumbwar Armistice," led by Paul's earthy voice, rang in familiar pulsating melodies, while "Lips" — apparently inspired by Chris Brown's "Wet The Bed" — had the crowd dissolve in Bodies' talent for angular riffs. Cued by Calvin Paterson's brief drum solo, Bodies completed their high-energy set with covers of The Strokes' "Last Nite" and Tom Petty & The Heartbreakers' "American Girl." But the majority of the band had barely left the stage when calls for an encore broke out. Much obliged, Bodies capped the night off with "Mylove," a track incidentally omitted from the final album. By doing so, they sewed their hearts right back on their sleeves, unleashing an echo of the last line of "Weak": Tyler Paterson singing, "Maybe I'm relieved."