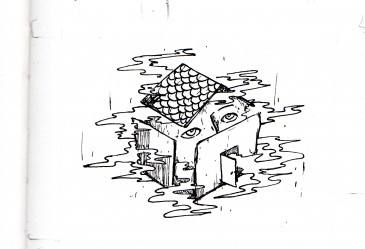 That gloved, dancing doughnut-like character on my Music Waste pass forecasts chill times to come on the weekend of June 4-7th. His jazzy shimmering hands motion in four days of local music and art. That sloppy toque (bought at some animated Army & Navy store), suggests the rotating crowd of underpaid twenty-somethings I will be co-audience members with.
At 21 years, Music Waste is the careful concentration of one of Vancouver's most stable alternative music festivals. Local on all levels, volunteer-run; it's a point of pride, a celebration of community.
And now, encroaching on all those warm feelings of insularity and cool, comes Texas-based satellite festival, Levitation Vancouver, with its dusty assertions of international acts and openness.

Discorder's June issue will delve into the space occupied by both Music Waste and Levitation Festival. The literal shared space, as both festivals are happening on the the same weekend. The nuances of this overlap are interesting and, as such, debatable.
And even as we discuss these festivals themselves, our conversations can barely be heard over the vast assortment of bands hosted by both. What we found is that, at the end of day, contemplating the potential conflict between these two overlapping psychedelic festivals loses out to the exhilarating, anticipatory, existence of both.
The fact is, Alex, physical music sales are dropping. For everyone in the game. Not just indies or majors. Everyone.
It should then come as no surprise that the rise of the epically large music festival is due to nothing more than basic economics. Low record sales? That's ok, all you need to do is start selling out stadiums.
How do you do that? Just offer college students and would-be young professionals more musicians than they know what to do with, tell them they get a half-week of debauchery, and jack up the ticket prices. Simple.
It's been a slow embrace in Vancouver, however, as mid-sized festivals like Olio and stadium-sized ones like Edgefest have come and (for the latter, thankfully) gone. Even more unnerving, this year Shoutback has announced they'll be on hiatus and Girls Rock Camp has packed up and headed south of the Fraser.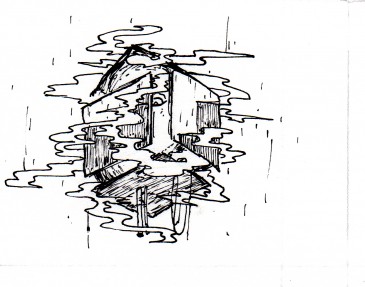 Meanwhile, we've got mainstays like Music Waste, New Forms Festival, and Khatsahlano as well as newcomers Levitation and Fvded In The Park. Last year even garnered us an iteration of the Mad Decent Block Party as Paul Devro thought he might try his hand at a hometown crowd. Yet, I don't see that one back again this year… I hope it wasn't something we said.
Meanwhile, in recent weeks there's been a number of articles touting the dos and don'ts of festival behaviour, or praising Canada as the next big music festival destination. To which all I have to say is: once again you're late to the party, North America.
Like so many other things, Europeans have bawked at us for being timid to embrace large-scale music festivals and, yet, once we do, we pretend like it's not happening anywhere else except right here, as if no one else had ever thought to converge in one communal, oversized area for a few days to celebrate music, food, art, and, yes, you guessed it, culture. That last one being something our Mayor and Premier recently took the time to remind the Economist we have in spades, assuming you consider "intense recreation" a part of culture.
Well, if you're not someone who regularly derives enjoyment from punishing your knees on the Chief at sunrise (me neither) nor someone who thinks that sitting around a fire drinking shitty beer and consuming a selection of burnt-on-the-outside-raw-on-the-inside packaged meats equates to culture, music festivals may just be the answer you're looking for. And while some say two festivals on the same weekend is too many, I do not.
Simply put: you can never have too much of a good thing.
So, regardless of which festival you choose to attend, or maybe you're planning on catching both, just make sure to go out and have a good time — support the bands, hang out with your friends, and make new ones. Just please don't go out there and complain about how crowds are being split or spew some colonial politic about corporate interests taking over a d.i.y. festival. We have a long way to go before hitting a critical mass of culture in this city.
As always,
Alex & Rob