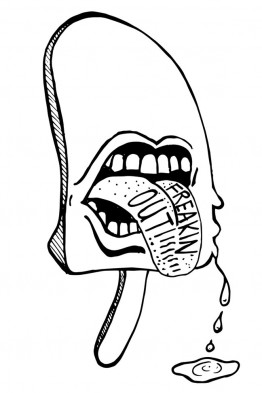 Evan Brow, Contributor
Then: Sasquatch! Music Festival, 2011, Gorge Amphitheater. I was but a wee high schooler back then. Full of dreams, hope, and Red Vines from Target. We skipped school to rock to the Foo Fighters, jam with Modest Mouse, and talk about how "the Canucks are really going to win it this year." The stars were aligned. Everything was perfect.
Now: The Vancouver Folk Music Festival, July 19 to 21, Jericho Beach Park. Can you go wrong with the folk fest? Even though perennial headliner (and trimmed-beard idol) Dan Mangan won't be performing this year, other greats like Aidan Knight, Hannah Georgas, Kathleen Edwards, and Whitehorse should be able to blanket us with the comfy fabric of folk.
Josefa Cameron, Contributor
Then: Arctic Monkeys, 2009, Malkin Bowl.
I missed the first week of grade 12 to drive from Calgary to Vancouver with my sisters for that stop on the Humbug tour. It was the best show I ever attended. I remember thinking that if I was trampled to death there and then, I would die a happy girl. And we hung out with Alex Turner before the show.
Now: Sled Island Festival, June 19 to 22, Calgary. This is greatly anticipated because: 1. I always go, 2. The line up is fresh, and 3. I am playing it this year.

Robert Catherall, Contributor
Then: Two years ago I crammed into a car with some friends and we drove six hours north from Copenhagen into the Danish countryside. I had no idea what I was getting into until I was let out in the middle of a field with nothing but 500 metres between the stage and a farmhouse. It was a weekend drenched in Danish acid-rock and communal meals. I still haven't come down.
Now: Music Waste, June 6 to 9, Vancouver. Undoubtedly. Without Olio this year, it's the biggest worthwhile fest in the city. Plus there is some seriously radioactive bile in that trophy, which is really badass.
Jacey Gibb, Contributor
Then: Pemberton Valley Music Festival, 2008, Pemberton Valley. This took my music festival virginity in the most memorable of fashions: by being an unexpected, disorganized whirlwind of intoxication. I was fresh out of high school (still a minor), went with someone I barely knew, lived off of sandwiches and beer the whole time, and we spent the last quarter of the car ride home on an empty tank of gas. I wouldn't have changed a thing.
Now: Smith Westerns, August 17, the Electric Owl. I had to sell my Sasquatch ticket to pay for my stupid rent, but I decided to get psyched about something a bit closer to home. The first time I saw Smith Westerns was at Sasquatch two years ago and while I doubt this time around will be a life-changing experience, if I drink enough warm beer and get really sunburnt beforehand, it just might cause some flashbacks.
Steve Louie, RLA Editor
Then & Now: Smmr Bmmr August 2 to 3, Portland, OR. Only been once (2012), but it's a full decadent dollop of the best garage-y, punk bands around. The venue is part outside and part inside, so you can bask all day in the beer garden atmosphere with bands playing around the clock. When the sun goes down, it's a move to a sweaty, raucous mayhem of a time on the indoor stage. Best time to be in Portland in the summer.
Dorothy Neufeld, Official Tweeter
Then: Salmon Arm Roots and Blues Festival, 2006, Salmon Arm. This fest has a knack for creating a lineup of undiscovered gems. Really. I love how they bring in blues acts. I saw Buddy Guy late at night on the main stage in 2006 and it was killer.
Now: Winnipeg Jazz Festival, June 13 to 23, Winnipeg. I'm heading to Winnipeg for the first time in June an have heard that the Jazz Festival is bar-none. Bettye LaVette ("Let Me Down Easy" is a heartache), Cannon Bros, and a ton of other good stuff will be happening.
Jordan Wade, Contributor and Host of Discorder Radio
Then: Canada Day 2011, Downsview Park, Toronto. An epic Canadian lineup of Broken Social Scene, Buck 65, and Hey Rosetta joined Weezer, and local favourites, the Tragically Hip, who played to 30,000 red-and-white-clad patriots on the most perfect summer day.
Now: Keloha Music and Arts Festival, July 5 to 7, Kelowna. An eclectic lineup of performers will play Kelowna's picturesque waterfront park, with dozens of B.C. acts including Gold and Youth, Rococode, Yukon Blonde, and the Zolas sharing the stage with headliners, Matt & Kim and MGMT.