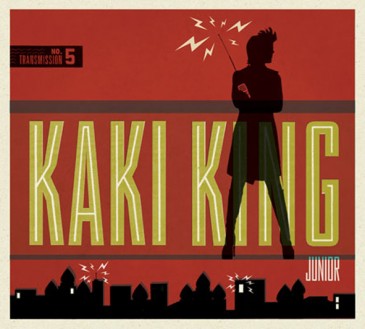 Kaki King returns with her fifth album, Junior. For the uninitiated, Katherine (Kaki) King is a hell of a guitar player. Her playing is multi-layered, skilful and so evocative that her lyrics are almost a secondary thought. An indie darling admired by her peers (Dave Grohl among many), Kaki King still somehow manages to slip under my radar.
"The Betrayer" kicks off the album. A rolling up-tempo track that gets your feet tapping, it is a wonderful indication of the songs to follow. Sprinkled throughout the album are a handful of instrumental pieces. "Everything Has An End, Even Sadness" is a particular highlight. The final track "Sunnyside" feels like the most lyrically "real" track. Backed by guitar and piano, the aftermath of a break-up never sounded so sweet.
Junior works best as a whole. Listen to it from start to finish and let Kaki King work her magic on you. The incendiary guitar and awe-inspiring harmonies you'd expect of King are all here. The drumming by Jordon Perlson is also a highlight. Furious when it needs to be, Perlson never overshadows the rest of the music.
Junior not only shows skilled musicianship, there is a maturity and depth here that is unique. Kaki King has a lot to say, and hell, you don't get Rolling Stone calling you a "Rock God" for nothing. Take note young aspiring guitar virtuosos; this is how you do it right. Definitely worth checking out.