The first full night of Music Waste awaited me, with an overwhelming lineup and overlapping schedule scattered across venues all over the city. I braced myself for a long haul. Music Waste only happens once a year, after all.
I started at Selectors' Records, an electronic / experimental record shop turned venue. As the sun began to set over historic Chinatown, Same Same — the slow, soothing electronic project of Ellis Sam — began to play. After his first song cut out in an explosion of unintentional noise, Sam apologized, and carried on to play a few more, including a warped cover of Pink Floyd's "Money." Attempting to try his first song again, the same surge of deafening static cut it off for a second time, closing the set on an unfinished note.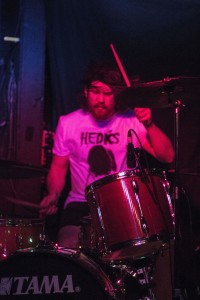 Dream Cars 1987 Nissan Custom Design took to the stage next, belting out croony, romantic vocals over kitschy, ballad synth pop instrumentals. While vintage crash test footage played over the backdrop, Dream Cars swayed behind his flower-enveloped keyboard and laptop.
I left Selectors' and walked east along Hastings to Red Gate to check out the Art Waste showcase. I made a circuit around the front room's paintings, photographs, and sculptures — which were sparse against the white walls, but ultimately cohesive in their aesthetic — , before backtracking to the Astoria to catch Skyote's set.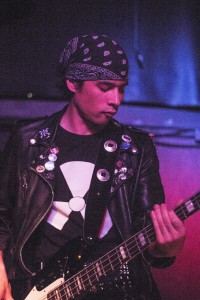 With the venue embarrassingly empty, Skyote took to the stage. "Alright, Music Waste!" lead singer Ian Johnston called out to the handful of people sitting at tables along the walls. Skyote drew in a fair crowd over the duration of their distinctively alt-rock set, finishing with a very respectable audience on the dance floor. As their set ended, I went back to Red Gate to catch Pavel.
According to the schedule, Pavel — the electronic project of Alex Cooper — was supposed to start at 10:45pm. It was 11pm. The lights had just been dimmed. Cooper was on stage, plugging in his mess of cables to the equipment. I waited, knowing that shows rarely, if ever, start on time. I watched Cooper do a quick sound check, then leave the room. And I continued waiting. At 11:30pm, I decided to move on. There were other shows that I was missing, and Red Gate is notorious for starting too late.
I arrived at Pat's Pub just as Spring Breaks played their last notes. Sitting at a table with a view through the pillars and crowd, I watched MARY haul their gear on stage. Moments later, a man sat down next to me and introduced himself: "I'm Timo. I live upstairs."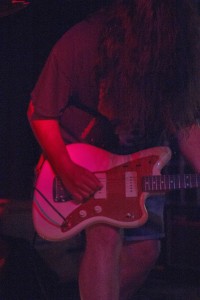 He told me about his life, about his trip from Sweden to Newfoundland in 1989, about how much he hated the East Coast and the Atlantic after spending weeks crossing it in a tiny boat with only jerky and rice to eat, about coming to Vancouver three weeks later and never leaving again.
Over the course of our conversation, MARY began to play, drowning out Timo's voice. During a gap between songs, he leaned over to me and said, in a soft Swedish lilt, "When I hear this music, there's no illusion left. The world is cut off. No one helps each other anymore." I didn't quite know how to respond, but MARY burst in again, playing their final explosion of loud, melodramatic punk.
The band finished, the bar closed and everyone began filtering out, but Timo and I kept talking for some time. Around 2am, I realized I had missed a fair number of acts in all the other venues, and decided it was probably time to head home, so I bid Timo farewell. Music Waste can be a lot of things for different people, but after my long and strange Friday night, and with Timo's strangely prophetic words ringing in my ears, I learned it's nothing if not unpredictable.