Waiting at Victoria's Swartz Bay terminal, browsing Instagram, I came across a picture from Laurel Halo's account, taken in Puget Sound presumably on a return trip from Victoria. There's a barge in the near-distance, with its sharp decal of Occidental pidgin — "HANJIN" — beaming through smudges of rain.

Victoria's motto, "Forever Free," marks an interesting negotiation between the idealism of the colonial frontier, the shelter of the Rocky Mountains, and the "purity" of the Cascades. With the current mood in Vancouver, imagine the charged symbolism of a trade barge on the Pacific Rim.

It's interesting that Victoria's inaugural Pretty Good Not Bad festival treated us to a spectrum of the sublime and material, between WAV_FORMS' haze of nostalgia, Loscil's topographic and environmental interrogation, culminating in the mutant signifiers and deconstructed techno comprising Laurel Halo's first set in Western Canada.

With this trip report out of the way, what about the music, bro? Bro.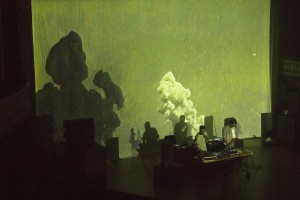 Entering a few minutes late for WAV_FORMS' opening set felt like an intrusion. PGNB's decision to host the opening of their inaugural festival in a former church-sanctuary, with pews pointed towards large scale visuals and an illuminated pulpit, lent a monastic charge. With slamming doors, sheepish coughs, and creaky wooden seats, the material presence of an old church eventually alleviated any discomfort, and I was able to experience the show from multiple angles.
I mention material strain in particular, because it's not far off the mark to say that WAV_FORMS, comprised of Sean Evans and Chris Dammeyer, had it on their minds. Muting repetitions were echoed by subterranean bass drones, or wiry undercurrents.   WAV_FORMS' crackling warmth, withering keys, and echoing undercurrents offered a tonal palette synonymous with other artists whose loops evoke material decay and nostalgia. The passages, or moods, were informed by Dammeyer's visuals, splayed across the back wall, and the duo's bodies, moving between mutating film footage, refractions, and transformations of color and texture. In one spectacular instance, Judy Garland's face, as she sung, split in two, recombined, and finally strained into a flare of light.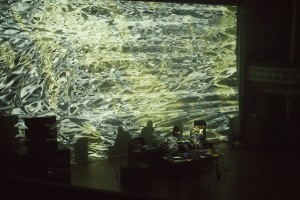 At its best, WAV_FORMS' gauzey transfigurations captured affective worlds, discrete chambers of memory that kept the audience locked in. That said, there was some faltering. A late movement with active chord progressions and mounting melody was overbearing in a grandiloquent, post-rock way. Alternatively, the gradual slide into beat and noise that concluded the set was more powerful. Bobbing in-time with the densifying beat, the duo's last bending into their consoles extended a half-second beyond the music's conclusion, as if snapping into a room emptied of air.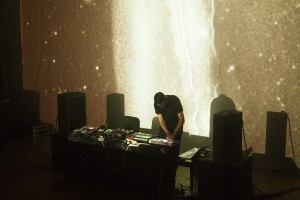 Despite WAV_FORMS' success, Loscil's subsequent set, featuring new material from an upcoming LP, had the most emotional power of the evening. At first glance there's an  austerity to the visuals, matching the music's colder textures: topographic scans of Pacific Northwest landscapes, with snapshots to black, implied documentation and surveillance. Loscil's previous work, marrying occasional acoustics and field recordings with pulsing synthetic tones, is heavily informed by his BC environment. Here, horns, airy whines, and cybernetic drones created an urgency which felt political and tangible. The beat became, at times, heavily discordant, while maintaining its inhuman advance. At one point a chorus of chopped and arpeggiated cries rose above the din.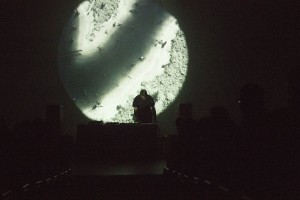 In spite of Loscil's percussive strikes and the array of mechanical clamour, the wash of ascending sound sustained and prevailed. The dimensions of Loscil's music unfolds with powerful visual markers — as the film's objective top-down camera lens segues into a series of envelopments and first person perspectives: below the ocean, seaweed forests, and weightless airscapes. In his remarkable set, Loscil married the spiritual and scientific. Cradled by the ocean and suspended in the clouds, the expression approached Cascadian grace and awe.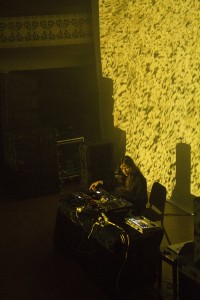 These two sets which played with lofty signifiers — nostalgia and nature — did not prepare for Laurel Halo's thorough irreverence. This is not a pejorative, though Halo's set did begin with an accidental expulsion of the fartiest synth. It's my attempt to describe the combine of dessicated signifiers: mechanical groans, vacuums vibrating up and down frequencies, cartoonish samples, horns, blaring and melting. At one point, Halo's "Chance of Rain" emerged as an skeletal memory. Even Halo's classical training background was ground into the occasional limb of string swells and skittering cymbals. Freed from the search for the sublime, Halo's set sounded entirely like a comment on a comment, a rejection of transcendent motifs in favor of bustling noise escaping over beds of mutant sound, glassy sustains, and rich hums. COMP_ZIT's visuals, which depicted a pane of mirroring, glitching arcologies, suggested the labyrinth of Laurel Halo's grotesqueries.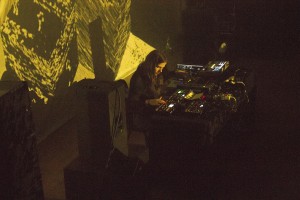 Brief interruptions of beat-music reiterated Halo's orthodox chops: powerful forward beats, and nervous percussive layers with the character of improvisation at its best. Urban Therapy's Lance Dobbie described Halo's set this evening as "the most futuristic of jazz." Definitely, Halo's composition felt dialogic. These moments of serendipity — when Halo's layers lined up, or when a wonderful spark of noise stamped in — set Halo apart from other deconstructed electronic.
Though I was unable to stay the weekend, the evening felt auspicious for PGNB's first showing. At its best, I imagine the festival's curation can continue, in the future, to offer these collisions and glimpses into something powerful.