I see my bus stop whizz by me as I'm on my way to meet with Inherent Vices frontman Christopher Burnside (a.k.a. Burnside) to discuss his upcoming two-part EP at a bar. It's a muggy Sunday afternoon and I'm admittedly feeling last night catching up to me. I scuttle into the bar and am greeted by a pleasant smile and bemusement from Burnside. He graciously offers me a drink: "How about a caesar?," he grins. His bandmates, Jeremiah Haywood (bass / vocals) and Evan Brewer (drums) join us moments later.
One can't help but notice how good of friends these three are. There is a shared comfortability and sense of respect. Burnside echos this observation: "This band functions really well, and I really like what we have. Every week is a positive experience for me. If my week's been crappy, I can come in and it's fun."
All fun aside, the band has been working hard to put together their upcoming EP, Upsidedowncross Vol.1. They've had their trials with previous recordings, from illnesses to delays. They're all in agreement that this time around things went fantastic thanks to Malcolm Biddle. "It's probably been one of the best recording experiences of my life," says Burnside. "It was a really positive experience for me. I've known Malcolm for a long time, and we're on the same wavelength. I don't really have to tell him what I want."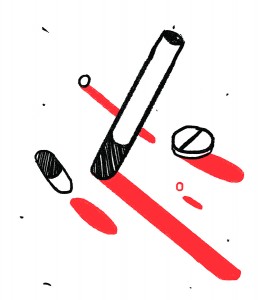 The band is releasing the EP in two parts. Rationalizing this, Burnside explains, "I have a decidedly doubtful — and I don't want to say hopeless, but definitely lacking in hope — outlook for the current North American attention span." With the constant bombardment of information on social media, consumer access to free music, and the popularity of singles over full albums, his qualms are justified.
But Inherent Vices doesn't agree on everything. Speaking to social media and content sharing, Burnside has the opinion that music should be accessible, while Haywood believes you should keep things on the down low: "If it's not out there on the internet, in theory, it'll make people go to your show!" exclaims Haywood. "Just put out records."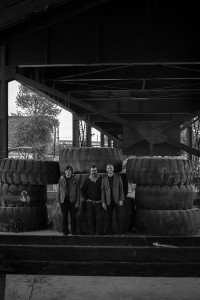 And they are. One half will be released July 28 with a live set on Thunderbird Radio Hell at 9pm on CiTR 101.9FM, and the other half released sometime in fall. The first EP is a nod to classic punk-rock, with heavy influences from bands like The Ramones and Dead Moon. It's hard hitting, with compelling lyrics and simple melodies. "I can't write stuff that isn't personal. Once in awhile I'll get one out, but for the most part I write from my own experiences," confesses Burnside. "The song 'Oh You' is a pretty good example about how I write stuff in the moment. If I'm feeling a certain type of way, it's in there. It's a precedent for Burnside being an impassioned artist. "['Oh You'] is pretty damning," he admits, but Burnside doesn't seem to hold a grudge. "Things happen with people, it's not the be all and end all of who they are."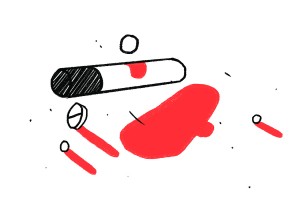 Both Burnside and Brewer work in the DTES as social workers, and the exposure to individuals' life stories has influenced their collaboration with more compassionate outlooks. Burnside recounts a story "I had a resident who I fucking hated. He was really hard to deal with. But I learned that he was severely abused as a little boy. There is a reason why people are they way they are. When you learn about people's past you see them in a different light." Inherent Vices is autobiographical, and at time scathing, but this is less of a burn and more of an outlet. "Everyone deserves compassion and forgiveness," states Burnside.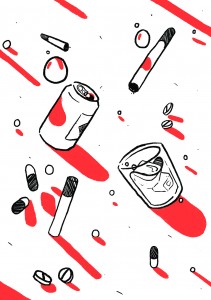 With all this new material heading, one would expect a tour, but the boys have some very strong ideas about hitting the road. "I hate touring. I had a really bad experience with my first band," confesses Burnside, sharing a look with Haywood and Brewer. Haywood feels differently: "The lifestyle [of touring] really appeals to me … I don't think bands can have that certain edge if they're not touring. You just can't be as good!". Brewer follows his thought with, "sharing your art with like minded people in different cities can lead to new friends and connections". I held my breath, wondering if I was about to witness an argument. I ask if differences of opinion between the two was a regular occurrence. "I like people with opinions!" exclaims Burnside, enveloping his bandmate in a side-hug.
At this point the conversation slowly dissolves into three friends recounting hilarious anecdotes of the trials of music in this information-overloaded society. "I think being a band in 2016 isn't necessarily the best career option," smirks Haywood.
x
Inherent Vices will be releasing Upsidedowncross Vol.1 on Ben Lai's Thunderbird Radio Hell on CiTR 101.9FM July 28 between 9-10pm. Visit inherentvices.bandcamp.com for more info.