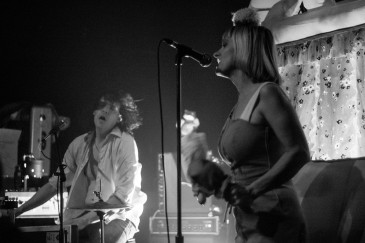 Despite unconfirmed accusations of Robert Rolston, a.k.a. Mr. Quintron's, and his partner Miss Pussycat's, deep and longstanding involvement with the Illuminati, I was committed to attending their performance on May 30. The checkered floors shared by the Masonic Lodge and the Fox Cabaret, representing the duality of good and evil, made an early attempt at mind control, while the venue promised an early show with Vancouver organ hero Wetface and southern post punks Nots. Being skilled in identifying conspiracy within organ-based and post punk music, I felt like my recent cult identification training was superfluous, like icing on this cake.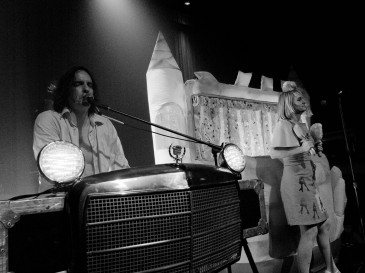 Early opener Wetface, pseudonym for Jordan Minkoff, dragged his impressive analogue organ through the early spring heat to play very sweaty chords and well written pop jams. Minkoff's impressive one man show had at least a dozen people dancing through a handful of accelerating built-in drum patterns. Eel kept mentioning Quintron, but I don't know if he was aware that he was doing so.
Nots followed quickly. A four piece post punk band from Memphis, Tennessee, they've been following Mr. Quintron's North American tour while performing impossibly tight headbangers. All four women on stage were fiercely involved in their music, taking little time to acknowledge the audience and ripping through their new album, We Are Nots. "Quintron is up next," singer Natalie Hoffmann stated several times, perhaps intending to induce hypnosis.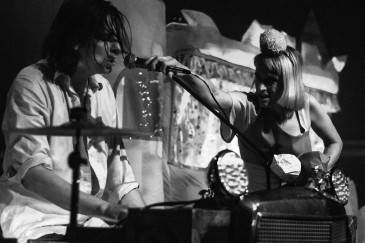 A short puppet show followed in which several characters dropped coded non sequiturs in an attempt to confuse the audience, culminating with a black light lit goblin stealing a crown from a princess. Quintron took position behind a makeshift car body with Louisiana license plates, plugging in his famous "invention" (aka Illuminati technology) the light-bulb operated, percussion synth performing Drum Buddy. Meanwhile his wife, the semi-anonymous Miss Pussycat, attempted to obscure the pyramid symbols of Illuminati origin hiding within the castle shaped puppet set. An ominous dangling coin with what I was sure was a carving of Baphomet fell from Quintron's shirtless body.
The pair hypnotized the crowd with material from many of their albums, including 2011's Sucre Du Sauvage. A small toy cat was magically reanimated to dance along with his Drum Buddy's drum "patterns."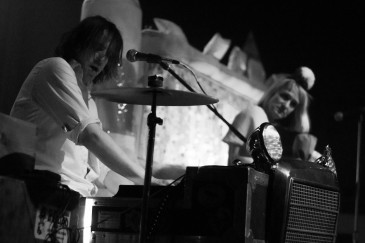 Despite my convictions, when relating these accusations to less informed attendees, their replies predictably fell between "what are you talking about?" and "wait, who are you?" I suppose, much like Rolston's day of birth and Miss Pussycat's true last name, we will never know these details. If anybody attends any of their future shows please message me as I have a Youtube video you may be interested in.