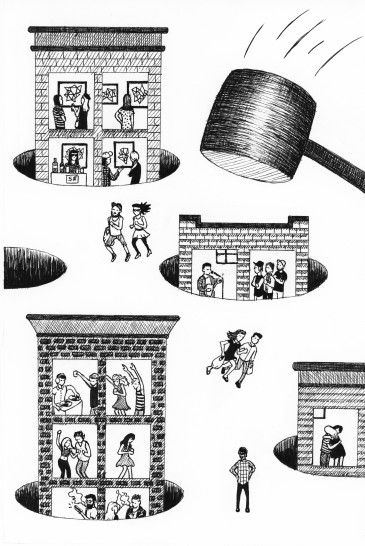 Inside freshly painted walls, a sizable crowd congregates. Tidy, white-faced tables crafted by Ian Sandilands make practical bar stands for the beer Natasha Lands' sponsorship connections provided. For entertainment, Genesis Mohanraj's musical talents attract and entertain the audience. The venue's soft opening is a perfect representation of what the Something Club is all about.
Pooling their skills for show promotion, design, visual arts, music, and performance, Lands, Mohanraj, and Sandilands have fostered a sustainable, creative economy amongst themselves. Though their partnership is small, it is an exemplary balance of resources and talents. Their new space aims to facilitate this type of artistic cooperation both within and beyond its walls.
Clean and spacious, the Something Club is a professional venue for artists to come together and build connections with other individuals, organizations, and businesses. The space is there to be one link in a larger chain; it is a facilitator of creative commerce.
Chatting with Lands, Mohanraj, and Sandilands, I soon learn why East Hastings was the most viable location for their new art space: the industrial neighbourhood has low rent and few noise complaints, in addition to a burgeoning DIY arts scene. As the city continuously fails to support and orchestrate arts and culture events, grassroots studios and venues have picked up the slack. As Lands puts eloquently, "It's a bit like the Wild Wild West out here. You're kind of on your own, but you can do anything you want."
The problem with some of these venues—or rather the charming flaw—is that they don't always serve as the best platforms for professionalism. Lands explains, "A lot of times bands end up performing in really grungy spaces." Most of which exist as much for debauchery and escapism as they do for art and music.
In many cases, becoming a late night party spot has been the only way for East Van venues to pay their rent. Lands, Mohanraj, and Sandilands are resolute that for them, this won't be the case.
Warding off after-hours implications, shows at the Something Club are scheduled for early evenings. Additionally, the venue's demeanor is determinedly neat. Its three rooms have bright, white walls and sparse furnishings. According to Sandilands, the space is designed to "bring an aesthetic and a sentiment that's more associated with higher-end galleries and then apply that to different types of arts and music." The three friends want to encourage emerging artists to present their work in a reputable venue; they believe that professionalism carries with it opportunity.
In Vancouver, one of the most beneficial opportunities for an artist is simply to engage with other artists. According to Mohanraj, the Something Club could be "that stepping stone." Besides being a literal location to network and experience what would otherwise be fringe elements of Vancouver's art scene, the Something Club intends to have proper press releases and marketing for their shows. An event planner for multiple venues in Vancouver, Lands has experience with promoting/building creative commerce, which has already led to talks with Timbre Concerts about future collaborative projects, while local label 1080p is also set to host a show release at the space this summer.
The Something Club's ambition as a connector is what makes it most notably unique: "When you look at the scene in Vancouver, there's not—as far as venues go—much of an overlap between the different disciplines of art," says Sandilands.
"We're trying to build these new relationships of blurred lines," adds Lands.
This means intertwining visual artists with performance artists and considering business sponsorships for cultural events. It also means allowing small-scale artists to work with already established music labels and arts organizations. At its very core, Mohanraj says, "It's about creative ideas that feel exciting."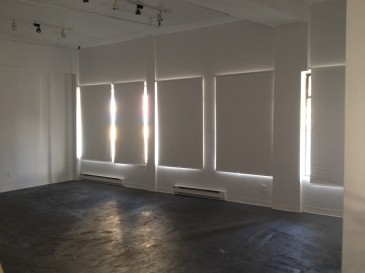 Right now the city's art scene is polarized. The majority of artists make little or no income off their work and are scarcely known of, while a small percentage are wealthy and enjoy wide recognition. Vancouver needs a middle-class of artists—and the Something Club hopes to bring it one.
From its core as a small partnership of close friends to its potential as a catalyst for creative economy, the Something Club might be the city's boldest new art space. The future of Vancouver's cultural character seems to be on the verge of a reinvention: from scattered, smoky 3 a.m. shows to an interconnected and cohesive art scene, this could be the something that pushes Vancouver's culture out of the fringes and into the forefront.
Want to learn more about the Something Club/check out some of their upcoming events? Then www.thesomethingclub.ca is for you!