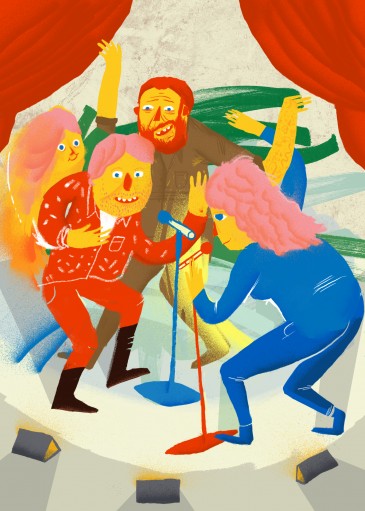 What do you get when you pair nine comedians with a local venue/restaurant and pit them against Game of Thrones? While it may sound like the set-up for a punchline, it's actually the story of Grad School Improv, one of Vancouver's newest emerging comedy groups.
Every Sunday night between 8 and 10 p.m., the improv nonet take over the Seven Dining Lounge in Mount Pleasant for two hours of fast-paced sketches, ad-libed musicals, and various improv games. The group has just wrapped up another buoyant installment when I sit down to interview three of the members: Evan Brow, Linden Maultsaid-Blair, and Thomas Peters.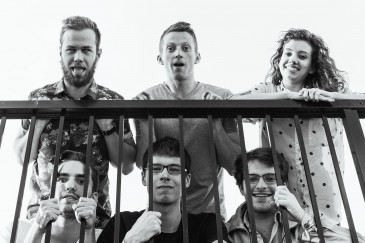 Along with the rest of GSI—Jill Alport, Ghazal Azarbad, Allie Entwistle, Noah Goldenberg, Mel Peters, and Thomas Huryn—Brow, Maultsaid-Blair, and Peters all share strong ties to UBC, with most of them being either current students or alumni. Aside from that connection, all of the members also have their hands in various acting and comedy projects around the Lower Mainland.
Each of GSI's members have different focuses that compliment one another while improvising. Alport, Entwistle, Goldenberg, and Huryn have comedy backgrounds and specialize in setting up and jumping on punchlines; Azarbad, on the other hand, is a trained actor and adds strong, well-rounded characters to the scenes; Mel Peters, like Thomas Peters, is a Jill-of-all-trades. With so much going on at any given moment, and so many unique approaches involved, it's important for GSI to have a good intuitive sense of narrative to hold it all together.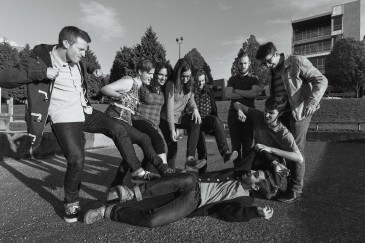 "Linden is good with instincts," explains Brow, bringing up the i-word that comes up often in our conversations.
"My favourite role to play is the backroom wizard, trying to keep everyone in line, making sure that the story is going in the same direction," says Maultsaid-Blair. "I'm not out there the most but I try to make everything I do count a lot … I try to inject that momentum … That's something I'm always looking out for, how the story can be told."
"We work in a story idea," Brow elaborates, "like a circle, having a want, a need, searching for something, finding it and having that need, returning to something, and changing it. It's basically creating those cliffhangers at the end. We rehearse this so much. This idea of the complete story."
GSI are able to hold a narrative together in the whirl of the moment because they're good at picking up on beats, something Brow clarifies for me: "It's when something gets a laugh or when it hits its most crucial point and it can only go downhill."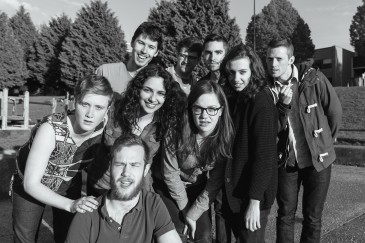 As much as GSI's show seems like a wild, free-flowing entropy train, the group works off a highly rehearsed and internalized structure that relies on interpersonal instincts. "Instinct is one of the most important things in improv," says Peters. "You're not even thinking, you just go."
Just like in the show, the guys have learned to pick up on each other's thoughts and work together in the conversation. They're used to narrowing in on a shared line of thought and adding their own unique flavour to it—I suppose this is how GSI can quickly morph a scene about a blind Starbucks employee into one about the joys of white-picket fence painting. It's all a matter of practicing together and learning about each other's different approaches to comedy.
While they already gel together fluidly onstage, GSI are constantly thinking of ways to improve their Sunday slot: at the moment, they're trying to develop a serial hospital drama for the show, as well as some of their own improv games. Whatever the energetic and hilarious group comes up with next, it's sure to keep them on the up-and-coming and keep audiences laughing along the way.
Now that Game of Thrones is on hiatus, you have no excuse not to check out Grad School Improv's weekly showcase every Sunday at Seven Dining Lounge. Admission is $4.