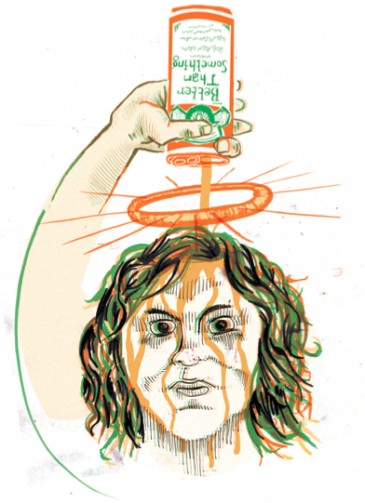 Jay Reatard once punched an overzealous kid at a concert in Toronto, but this movie is not about that. Better Than Something: Jay Reatard takes a quieter look at a musician who was known for both amazing pop-driven punk and insane fits of rage onstage. In 2010 he had been signed to Matador Records and released one of his most poppy albums, Watch Me Fall, when he died at the age of 29. The Memphis native, born Jimmy Lee Lindsey Jr., lived hard and died young, but this movie allows itself the room to move away from just exploring that aspect of his character.
The challenge that Better Than Something is acknowledging the musician's troubled reputation, without dwelling on his less gracious moments. Directors Alex Hammond and Ian Markiewicz do a beautiful job of providing insight into Reatard's musical process as well as a look into a thoughtful though obviously troubled person.

Originally conceived as an album promo video, the film focuses on one long-form interview with Reatard. It is surprising how candid Reatard is in the film, especially since his entire life story is covered through a few conversations with the filmmakers. At first the film sets you up with what seems like an amateurish formula: outwardly asshole musician has heart of gold. It opens with Reatard being interviewed by some poncy MTV-style hosts, and hating it. This is followed by a series of interviews with friends talking about how wonderful and how kind he was deep down, so immediately you get the message that Reatard seemed like a snotty punker, but maybe there had a hidden well of tenderness inside. But the Better Than Something evolves into something much more subtle.
The film's best moments are when Reatard turns from a quietly reflective adult into an outright juvenile. In one scene he tries to explain his principled devotion to noisy garage music. Over a slice of apple pie covered in processed cheese he blurts out, "I don't know why they don't get it. I'm not Joan-fucking-Baez."
His analysis in the film of his own music and what drives his work is elegantly interspersed with asides about his childhood, his performance style and his relationships. And the soundtrack, composed of Reatard's music, weaves together the narrative of his life nicely.
This is probably one of the best rock documentaries I have seen to date. It is a haunting look at Jay Reatard's life, and would be a deeply affecting portrait even if he had not died at 29. Better Than Something made me wish he lived to make more music, and gave me some unexpected insight into why he didn't.