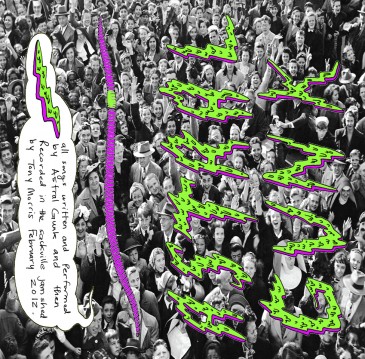 Sackville, New Brunswick-based band Astral Gunk live up to their name: a combination of the somewhat exotic yet superfluous, like residue that Han Solo scrapes out of the grill of the Millenium Falcon. The five track cassette is less than twenty minutes, and has a beer and acid fueled surf-vibe energy that you would crank if you stole your parents' spaceship for a joyride through the galaxy.

The tape is tagged on their Bandcamp site as "garage punk gnar-wave pop psych," and has a well-balanced combination of catchy, Pavement-esque guitar riffs with copious amounts of distortion and weird UFO-sounding synth oscillations. The vocals are an often unintelligible kind of scream growling, which contributes to the intoxicated catharsis element of the sound, but lacks the poeticism to be found in somewhat similar psych-punk bands like Thee Oh Sees.
It would be good to hear these guys live, or perhaps to play this release while jacked on caffeine to help motivate you to clean your neglected apartment. Ultimately, the sound is not exceptionally unique or distinguishable from so many other bands in this multi-hyphenated genre. For what it is, the album is okay, but maybe not a must-hear release.