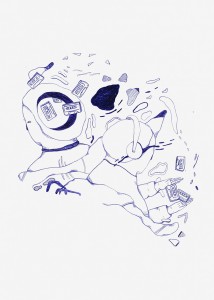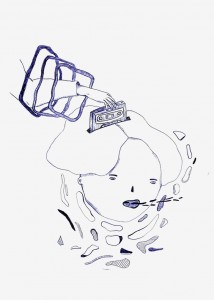 Although he "put a name to" Alarum Records in 2013, Eric Axen had been honing his taste in the Vancouver indie pop and punk scene for years. "There were a lot of bands [that I thought] if I had a label, I would put their record out." So he did just that, releasing Sightlines' Our Demands (of which he is a part) in early 2013. And the label has gained momentum; this year he released Supermoon's Comet Lovejoy and tv ugly's UCLA Yankee Cola. "I just really wanted people to hear them."
The sound that Axen curates is a unique one. Self-described as "weird pop," there is a distinct mesh of grittiness and listenability to the sound he puts out. He considers it pop music "in the sense of songwriting, not pop in the sense of popular music. [These aren't] bands doing whatever it takes to get on the radio. [But] pop songwriting as a craft is something alive and well in Vancouver."
Within the distinct niche of unique local sound, Axen believes running a small label gives bands extra opportunity to be recognized.
"I used to listen to CBC Radio 3 [now CBC Music]," he explains. "It was interesting when it started but then it got more homogenized … it's very safe, very commercial." Though said with conviction, Axen clarifies that his comments are "not to trash [CBC]." He is just more interested in a thread of "grittier stuff" that lies beneath mainstream Canadian indie music.
Operating a smaller label allows Axen to take a hands on approach. Something he finds especially exciting is the resurgence of cassette culture in the city. "Supermoon came and said 'we're just going to do a tape' and I thought, 'no, a tape can be an amazing art project.'"
Indeed, the cassettes Alarum have released are nothing short of mesmerizing; co-designed by Axen's partner, artist and illustrator, Dana Kearley, they are a mirage of colourful plastic, dazzling prints and sparkling tape. Kearley finds the possibilities of cassette art stimulating. "When I'm working with Eric we're collaborating in a different sense. We're working on the same thing together, but in two completely different ways."
Axen echoes this, believing that "with tapes, the goal is to create something beautiful that people want to own." Axen believes part of this cassette culture is driven by the social and economic conditions of Vancouver itself. Records are expensive to buy and produce, and in a city with such high costs of living, cassettes are an interesting alternative.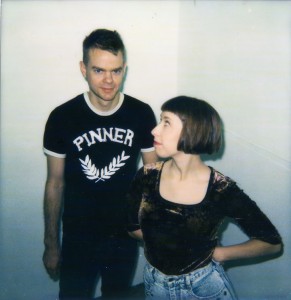 And how else does Vancouver as a city factor into Alarum Records? I was curious to know if he thought that such a concept as "local sound" was even relevant, now that we live in an age where all music is easily accessible. Axen believes that regardless to the internet, "bands from certain locations do influence each other just by playing together in the same area," claiming that's something he wants to document. If anything Alarum Records is a testament to this cross-pollination of influences. With groups sharing band members and subtly impressing their styles on each other, the label has evolved to foster a definable sound that Axen wants to continue curating. "You can find a niche in a city like Vancouver and it can still be geographically specific. I like that it becomes this web, you see everyone influencing each other."
x
Alarum Records is currently working on two new releases for early 2016. Details to be announced in the new year.